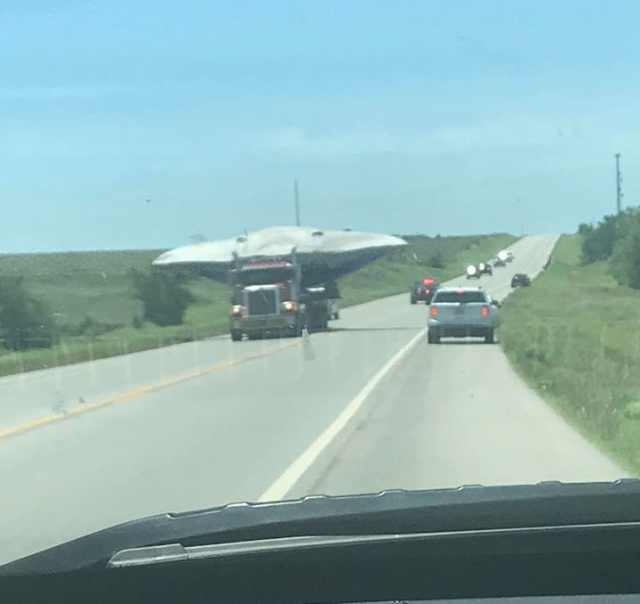 KANSAS  – A viral photo of what looks like the military is transporting a UFO down a highway has surfaced. If you think this is a photo shop or some sort of fake photo, its not.
On a facebook post by Dennis Walker, he says, "Don't bother with Area 51, they're moving all the good stuff."
Don't be deceived, though, this photo was taken years ago in a small Kansas community in Cowley County, Kansas and caused quite a stir.  Now that it has resurfaced, it seems to be doing it again because of recent events with area 51.
According to a news report from uasvision.com residents in a small community were shocked when a saucer-shaped craft on a trailer came down Main Street. Local police helped guide the "saucer" down the street and execute the turns because of the wide load. The "saucer" was 30 feet across from tip to tip.
After the blow up on the media a Northop Grumman spokesperson came forward and reported it wasn't a UFO recovered from a crash site but one of two experimental X-47B military combat drones that Northop built for the Navy. The drone had its wings in a folded position that helps it in transport and because it is used on carrier ships where it can be stored. They chose to transport the aircraft by ground vs flying it to its location because back in that time unmanned aircraft was still being tested for reliability.