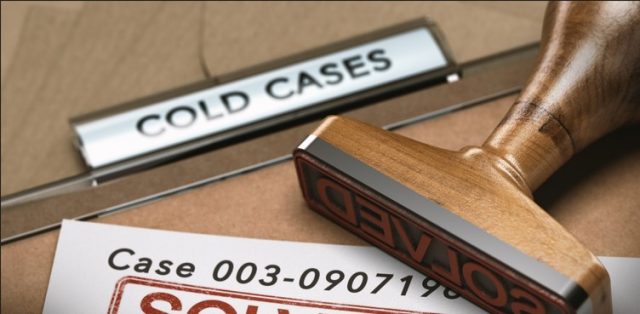 (BOARDMAN, Ohio) — Ohio Attorney General Dave Yost today joined Boardman Township Chief of Police Todd Werth and Mahoning County Prosecuting Attorney Gina DeGenova to announce the identification of a suspect in a 1975 cold case homicide.
"Consider these victims, 12 and 13 years old – they had their entire lives ahead of them," Yost said. "Their murderer stole everything they could have become and could have achieved. Today's announcement does not mitigate their loss, but reinforces why our cold case team pours their heart and soul into their work, reminding us that everyone matters and we need to fight for justice."
In 1975, the Boardman Twp. community was left searching for answers after a teenage boy, David Evans, was reported missing and later found dead. The discovery of Evan's body came 1,023 days after the murder of another young boy, Bradley Bellino.
As time passed and crime fighting DNA technology progressed, detectives with the Boardman Twp. Police Department continued to work the unsolved homicides, requesting assistance from the attorney general's Bureau of Criminal Investigation's (BCI) forensic laboratory. This work has conclusively linked both homicides to the same offender, Joseph Norman Hill Sr., who lived in Boardman Twp. before moving to and ultimately dying in California.
"While Hill cannot be fully held accountable for these horrendous crimes, our hope is that after almost 50 years knowing who is responsible for Bradley and David's deaths can bring some sense of closure to their families and friends," Chief Werth said.
Bellino Case
Earlier this year, on Jan. 24, Boardman Twp. authorities announced that advanced DNA analysis had identified Hill as the offender responsible for the 1972 homicide of Bradley Bellino. The 12-year-old was reported missing on April 1 and found dead on April 4 in a restaurant dumpster on U.S. Route 224, behind the Boardman Plaza.
Hill, who was 32 at the time of the homicide, moved to California around 1978 and died there from natural causes in 2019.
DNA analysis conducted by BCI developed an offender profile, which was then used by Parabon Nano Labs to conduct an investigative genetic genealogy search. Ultimately, a family member of Hill's was located and additional testing confirmed him as the offender.
Evans Case
Following the Bellino announcement, Boardman Twp. detectives focused their attention on the 1975 homicide of David Evans. The Bellino and Evans cases had numerous similarities as the children were near the same age and were found about a mile apart from each other.
Evans, 13, was reported missing on Jan. 18, 1975, and found dead on Jan. 23 in the backyard of a home on Crestline Place in Boardman. He lived at 208 Ridgewood Drive in Boardman and was reported missing by his father, who was concerned that his son, a diabetic, had not returned home. Boardman police conducted an extensive search before finding the boy lying on his back in freezing temperatures.
The coroner at the time believed that Evan's death was caused by diabetic coma. But earlier this year, the current Mahoning County coroner, Dr. David Kennedy, reviewed the case and determined the death was a homicide, based on broken bones and a puncture wound post-mortem.
In April 2023, BCI applied the latest DNA technology to the case and obtained an offender profile, which was then compared to the profile in the Bellino case. Ultimately, it was determined that Hill also was responsible for Evans' death.
In both cases, the Mahoning County Prosecutor's Office determined that the forensic evidence would be sufficient to present the cases to a grand jury for indictment if Hill had remained alive.
"Due to the hard work of our law enforcement partners, the killer of David Evans has been identified," said Prosecutor DeGenova. "While no words can ever bring David back to those who loved him, I pray that this information will bring some closure to his family. Mr. Hill ruined so many lives, I only wish he lived long enough to have been brought to justice. May David Evans and Bradley Bellino rest in peace."