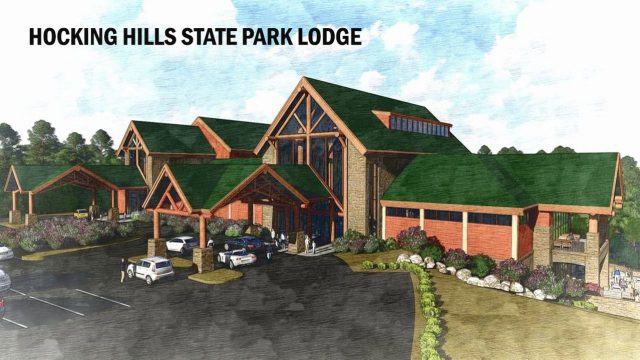 HOCKING – In 2018 The Ohio Department of Natural Resources announced construction plans of a multi-million dollar lodge to replace one that burned down years ago.
The previous lodge caught fire while under roofing repair in 2016. Now construction has began four years later. In addition to a restaurant and day-use facilities, the new lodge will include a conference center and a yet-to-be-determined number of overnight guest rooms.
In a press release ODNR Director Jim Zehringer, said "This is a new opportunity for more visitors to have the option to stay overnight at Hocking Hills State Park, and we are excited to help create a place that will provide more joy and relaxation to millions of visitors in the future."
Hocking Hills is reported to be Ohios most popular park with 2 million visitors a year. Along with Hocking Hills the area is home to Old Man's Cave, Ash Cave, Cedar Falls and other natural wonders.
"Hocking Hills is Ohio's flagship state park, and it continues to receive international acclaim as one of our greatest natural treasures," ODNR Director James Zehringer said. "Safety remains our top priority, so being able to offer the public a one-on-one interaction with ODNR trained staff allows us to enhance the experience and safety of our guests as we showcase what the region has to offer."
The new facility will be built on the location of the old lodge, off of Ohio 664. They will use a already in use parking facility at that location. The location will also have access to the newest trail, Whispering Cave Trail. In addition to the lodge a large swimming pool will also be replaced that was there before.
Cost of the new building is a whopping 30 million dollars, but a large portion of that monies came from a insurance claim for the loss of the last lodge.
The plan for the new lodge wasnt just a decision from ODNR, during the past few years ODNR has polled the people to see what they would want in a new facility. Overnight lodging was one of the popular choices on the list.
Hocking Hills is no stranger to new construction with a new tourism location at 19852 State Route 664 South Logan Ohio 43138. Located at Old mans cave built in 2019 for 5 million.
Last year Ohio reported that tourism netted a estimated 44 Billion dollars for Ohioans.