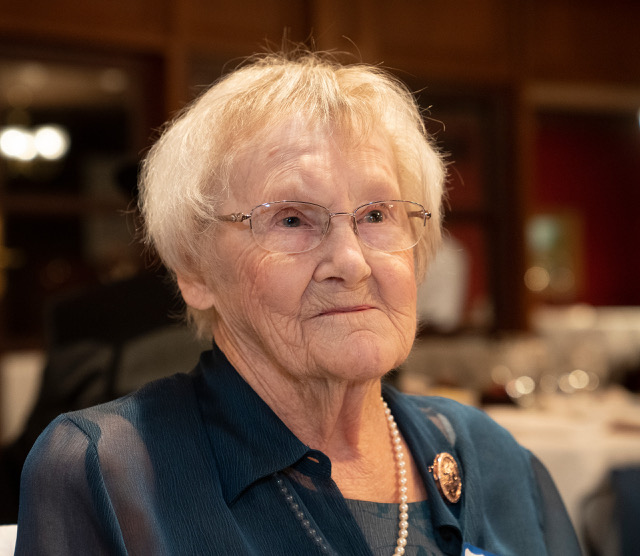 ​The 100th birthday celebration for Olamae "Fritz" Cox began Saturday, May 29th at her home in Knollwood Village.  Family members from Virginia, Arizona, Texas, Colorado as well as Ohio assembled for festivities planned for the next day. Beginning with a reception in her home from 1:00 to 3:00 pm, many friends and neighbors came by for some champagne and cake and lots of memories from over the years.  Later that evening the family took her by limousine (2 of them) to a private dinner at Lindey's Restaurant in Columbus, Ohio. 
Mrs. Cox began her life in Syracuse, New York on May 24, 1921. Her family moved to Utica, New York shortly thereafter and she graduated High School from the Utica Free Academy. After high school she attended and graduated from Syracuse University in 1942, majoring in English and Library Sciences. From there she moved to Colton, New York and taught high school for two years.
World War II had begun when she married the love of her life, 2nd Lieutenant William A. Cox, B-17 pilot, who departed for combat in Europe.  She returned to her childhood home in Utica to await his return.
He did return and they began a military life together.  Moving frequently in his 20 plus year career in the U.S. Air Force, Mrs. Cox made homes in numerous states in the U.S. as well as in Guam and Spain.  Raising two sons in the process, Lt. Col. Cox finally retired in 1964 and returned to the house in KnollwoodVillage that they had bought in 1957 while stationed at then Lockbourne AFB.  "Fritz" is the only remaining original homeowner in Knollwood Village.
Mrs. Cox quickly immersed herself into life in Circleville.  She became involved with her church circles, many activities supporting Pumpkin Show, the Historical Society, gardening, and later she became an active member/President of the Monday Club.  After her beloved passed away, she went to work as the Reference Librarian at the Pickaway County Library and eventually became the Director of the Library until her retirement in 1986.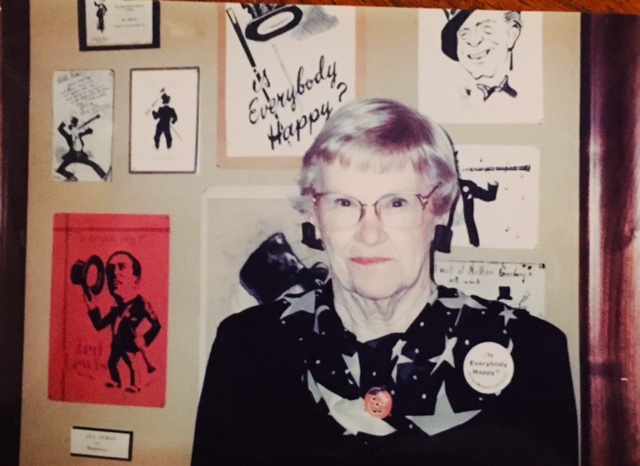 After retiring from the Library, Mrs. Cox began volunteer work in the Ted Lewis Museum, which as she said, "was a labor of love" because of her love of music from that era. Serving as a hostess and tour guide for the museum, she also served as president of the Museum Board until she "retired" in 1998.
In addition, she traveled the world extensively. She was on one of the first tourist groups allowed into mainland China, was one of the first groups into East Germany after the wall came down. She rode the Orient Express, flew on a small plane to the top of a glacier in the Southern Hemisphere, visited Australia, New Zealand, Tahiti, and almost all the countries of Europe.
She now spends her time between her home in Circleville and her son's home in Texas.
Family attending Mrs. Cox's celebration included; son, William Cox of Arizona and grandsons Ian and Todd Cox also of Arizona, son, Michael and wife Shirley (Thomas) Cox of Texas, grandson, Brook Cox and wife Erinn Cox of Cincinnati, Ohio, their children Sophia, Charlotte and William. Also attending were step-grandson, John Peterson, his daughter Emily, hisfiancé Susie Carroll, her daughter Seryn Grant, as well as step-granddaughter Melanie Conrad and her son Michael.
Plans are underway for the 105th!