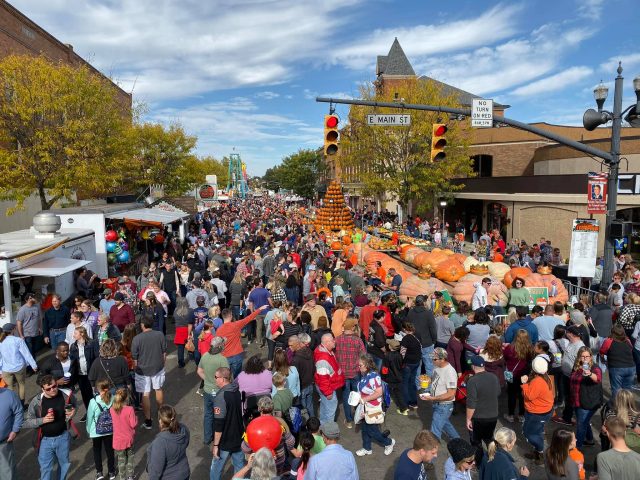 CIRCLEVILLE –
CIRCLEVILLE – The Pumpkin Show will be held on the third week of October as planned, but some selective events have had some cancellations
According to Barry Keller Circleville Pumpkin Show vice president, the open-air outside event will go on as planned, saying that if Ohio State can have football stadiums full of people we can have the Pumpkin show.
What may be modified or closed this year is the events, and shows that are inside enclosed places.
According to a press release from Pumpkin Show Inc. the show will take place from October 20th to 23, 2021 with a preview beginning on October 19th. from 5 to 10 pm. A few selective cancellations will occur this year.
The Big Wheel race hosted by Circleville Noon Rotary Club will cancel their event this year for safety.
Trustees and Volunteers for the Home Arts & Crafts Department and flower Show have decided to cancel their entries and exhibits.
All other events are accepting entries on their individual published scheduled as shown in the Rules and Regulations of Pumpkin Show Exhibitors.
Pumpkin Show says that most of the Show is an outdoor event, "We do encourage those who attend to do so understanding that it will be up to them to practice appropriate social distancing and wear masks if they so desire to do so. The inside Circleville Pumpkin show exhibits will encourage masks for our visitors who wish to look at the various exhibits."
The show will go on!