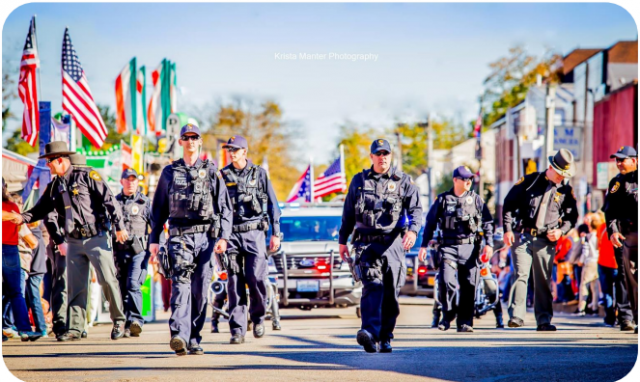 0:02:04 – OHIO HEIGHTS APARTMENT COMPLEX
ADVISED THERE IS SOMEONE OUTSIDE HER BACK WINDOW WITH A FLASHLIGHT. UNABLE TO LOCATE
---
1:12:01 – FRANKLIN COUNTY CORRECTIONAL CENTE
MARKED ENR TO THE LOCATION TO PICK UP PRISONER DEMARCO SAUNDERS ON A WARRANT. ARREST MADE ON DEMARCO SAUDERS – WARRANT ARREST
---
3:11:28 – Ted Lewis Park
MARKED OUT AT THE LOCATION WITH A JUVENILE. REPORT TAKEN ON CURFEW.
---
4:03:00 ALDIS – ADVISED OF A DISTRESS ALARM AT THE LOCATION – UNKNOWN WHERE THE ACTIVATION IS. CHECKED OKAY. THERE WAS A DELIVERY DRIVER ON SCENE.
---
8:39:14 E MILL ST
PERSON ON STATION REQUESTING AN OFFICER STANDBY FOR HER TO GET HER CHILDREN STANDBY COMPLETE. FATHER REFUSED TO TURN THE CHILDREN OVER.
---
E MILL ST
OFFICERS MARKED OUT AT THIS LOCATION TO SERVE A WARRANT OFFICERS UNABLE TO LOCATE
---
9:40:11
E UNION ST
CALLER ADVISING OF TALL GRASS AT THIS LOCATION. REPORT TAKEN
---
480.0 LANCASTER PIKE
PERSON ON STATION WANTING TO DO A STANDBY TO GET THE REST OF HER BELONGINGS AT APARTMENT. STANDBY COMPLETE
---
10:59:06 N COURT ST
CALLER ADVISED THERE IS A BICYCLE BEHIND HER HOUSE NEAR HER GARAGE REPORT TAKEN ON FOUND PROPERTY
---
11:04:35 – BARNES AV
CALLER ADVISED OF TALL GRASS AT THIS ADDRESS ALONG WITH TALL GRASS AT THE REAR OF HER RESIDENCE ALONG THE RAILROAD TRACKS AS WELL AS BARNES AVENUE
REPORT TAKEN FOR BARNES AVENUE. BARNES AVENUE CHECKED OKAY
---
12:24:08
SMOKE AND CELL
CALLER ADVISED A THEFT OF A CELL PHONE AT THIS LOCATION
REPORT TAKEN
---
12:51:01 E MOUND ST
911 CALLER ADVISED SHE WAS FOLLOWING HER BROTHER
AND STATED HE WAS A DANGER TO HIMSELF AND OTHERS. CALLER ADVISED HE THREATENED HER, HIMSELF, AND HIS WIFE. CALLER STATED HE WAS WEARING RED OR BLACK SHORTS, NO SHIRT, RIDING A BLACK BICYCLE WITH A BAG OF CLOTHES. CALLER LOST SIGHT OF HIM NEAR EAST MOUND STREET AND BROWN STREET.CALLER ALSO ADVISED SHE BELEIVED HE WAS UNDER THE INFLUENCE OF NARCOTICS.
OFFICERS UNABLE TO LOCATE THE MALE
---
13:12:10 TURNER DR
CALLER ADVISED SHE RECIEVED TEXT MESSAGES FROM HER DAUGHTER ADVISING THE GRANDMOTHER HAD BEEN CHOKING HER.
OFFICER ADVISED THE CHILDREN CHECKED OKAY
---
14:04:50 NORTHRIDGE RD
CALLER ADVISED HER EX HUSBAND HAD SHOWN UP AT THE RESIDENCE ATTEMPTING TO GET A TRAILER. COULD HEAR BOTH PARTIES YELLING IN THE BACKGROUND. CALLER ADVISED EVERYTHING WAS VERBAL.
NO DOMESTIC DISPUTE, FEMALE HALF IS SUFFERING FROM MENTAL ISSUES. THE MALE HALF ON SCENE WAS THERE TO PICK UP A TRAILER THAT BELONGS TO HIM.
---
Vandalism RIDGEVIEW DR
CALLER REQUESTING AN OFFICER DUE TO AN INDIVIDUAL KEYING HIS CAR. NO REPORT TAKEN, DAMAGE WAS JUST DIRT WHICH CAME OFF.
---
16:12:01 KINGSTON CT
CALLER REQUESTING AN OFFICER DUE TO HER NEIGHBOR YELLING OBSCENITIES AT HER IN FRONT OF HER CHILD. CALLER ALSO ADVISED SHE HAS BEEN CONTINUING TO HARASS HER BY TAKING PHOTOS OF HER AND HER DAUGHTER WHILE OUTSIDE PLAYING.
CALL HANDLED, BOTH PARTIES ADVISED OF DOC.
---
17:11:36 CEDAR HEIGHTS
CALLER REQUESTING AN OFFICER DUE TO A RESIDENCE REFUSING TO TAKE HIS MEDICATION AND SHE HAS COURT PAPERWORK FROM THE COMMON PLEAS COURT ADVISING IF HE REFUSES HE WOULD HAVE TO BE TRANSPORTED TO A MENTAL HEALTH FACILITY.
REPORT TAKEN BY OFFICER. PATIENT WAS TRANSPORTED TO BERGER.
---
17:30:41 TOWN ST
CALLER REQUESTING AN OFFICER DUE TO SEVERAL SUBJECTS INHABITING IN HER BASEMENT AND SHE HASN'T A CLUE ON WHO THEY ARE AND WHY THEY ARE THERE. CALLER STATED SHE ASKED THEM TO LEAVE AND THEY REFUSED. ARREST MADE ON JOSEPH E HASHMAN FOR WARRANT OUT OF CHILLICOTHE POLICE DEPARTMENT. PRISONER TRANSPORTED TO PICKAWAY COUNTY JAIL. REPORT TAKEN. ALL SUBJECTS LEFT THE RESIDENCE.
---
18:10:07 E UNION ST
CALLER REQUESTING AN OFFICER DUE TO HIS SHED BEING BROKEN INTO AND HIS AIR COMPRESSOR, CHECKS AND OTHER AFFECTS BEING STOLEN.
REPORT TAKEN.
---
18:49:19 STIHL AVE
CALLER REQUESTING AN OFFICER DUE TO A MALE SUBJECT THAT LIVES BEHIND HIM RUNNING AROUND WITH A SLEDGEHAMMER BEATING ON OBJECTS. CALLER STATED THERE WERE CHILDREN OUTSIDE CRYING WHILE ALL OF THIS IS OCCURRING. MALE IS DESCRIBED AS WEARING BLUE JEANS AND A BALL CAP.
CALL HANDLED, SUBJECT ADVISED OF THE COMPLAINT. CHECKED OKAY BY OFFICERS.
---
E OHIO ST CALLER REQUESTING AN OFFICER DUE TO A YOUNG JUVENILE FLIPPING OVER HIS TRASH RESULTING IN IN POURING ALL OVER HIS YEARD BEFORE TAKING OFF ON A BICYCLE.
NO REPORT TAKEN AT THIS TIME.
---
19:22:20 E MOUND ST
CALLER REQUESTING AN OFFICER TO THIS LOCATION DUE TO HEARING YELLING AND SCREAMING NEXT DOOR THEN SEEING A PERSON RUN OUTSIDE YELLING TO CALL 911.
*2ND CALL: CALLER ADVISED HER DAUGHTER'S 20 YEAR-OLD BOYFRIEND WAS CAUSING PROBLEMS AND SCREAMING AT EVERYONE IN THE HOUSEHOLD.
---
WALNUT ST
CALLER REQUESTING OFFICERS TO BE ON THE LOOKOUT FOR DUE HIS FOOT BEING SEVERELY INFECTED. CALLER IS DEEPLY CONCERNED FOR HIM AND ADVISED HE IS HOMELESS BUT IS POSSIBLY IN THE AREA OF WALNUT STREET. UNKNOWN CLOTHING DESCRIPTION. CALLER REQUESTING IF THE CIRCLEVILLE POLICE DEPARTMENT LOCATES HIM
TO HAVE A MEDIC DISPATCHED TO CHECK OUT HIS FOOT. CALLER STATED HE IS A DRUG ADDICT AND SHOOTS HEROIN IN HIS FOOT WHICH RESULTED IN THE INFECTION.
---
21:44:20 LOGAN ST
CALLER REQUESTING EXTRA PATROL IN THE ALLEY NEAR THIS LOCATION DUE TO SUBJECTS BEING NEAR THE HOUSE. WHEN THE CALLER APPROACHED THE TWO FEMALES WHO WERE IN POSSESSION OF A CABINET AT THIS, THEY ADVISED THEY WERE HELPING THE CALLER'S SISTER MOVE. CALLER STATED HER SISTER LIVES IN THE REAR OF THIS LOCATION AND WAS WITH HER AT THE TIME THEY WERE SUPPOSEDLY HELPING HER MOVE. CALLER REQUESTING AN OFFICER TO PATROL A FEW TIME IN THE ALLEY THROUGHOUT THE NIGHT.
---
21:48:32 N PICKAWAY ST
CALLER REQUESTING AN OFFICER DUE TO HER SON BEING ON SOMETHING AND ACTING OUT IN A BELLIGERENT MANNER.
*OFFICER ON SCENE REQUESTING A MEDIC FOR A 34 YEAR-OLD MALE ADVISING HE MAY BE HAVING A POSSIBLE ALLERGIC REACTION TO MEDICATION.
REPORT TAKEN. MALE TRANSPORTED TO BERGER BY MEDIC 1.
---
22:40:56 175.0 LANCASTER PIKE
CALLER REQUESTING AN OFFICER DUE TO A MALE SUBJECT TWEAKING AND ATTEMPTING TO STEAL TWO CARTS FILLED WITH MERCHANDISE. CALLER ADVISED HE WAS PAST THE POINT OF SALE AND STATED HE ADVISED HE WAS WAITING FOR HIS WIFE. ARREST MADE ON BENJAMIN FORD FOR PRIOR CHARGES OF THEFT. SEE REPORT NUMBER: 2- 19-002602. PRISONER TRANSPORTED TO THE PICKAWAY COUNTY JAIL. REPORT TAKEN ON TRESPASSING. PROPERTY RETURNED TO STORE.