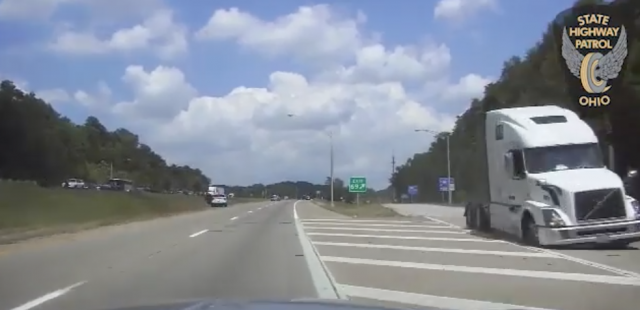 Cincinnati – A intense chase happened July 18, 2020 when a semi truck driver decided to run from police.



The chase started after a call to 911 of a reckless truck driver on interstate 75 in Cincinnati.
Officers attempted to pull over the semi truck driver by driver Patrick Berthelot 40, refused and led officers on a chase into the city of Cincinnati, then onto I-71 and I-275.
The video below shows the close calls between Law enforcement, and others on the road.
"He crossed over numerous times into the eastbound lane of westbound 275 and vice versa, putting numerous people at risk of serious physical harm," Cincinnati Police Assistant Chief Paul Neudigate said in a press conference.



Law Enforcement attempted to stop the truck with stop sticks flattening the tires but that did not stop the driver. A SWAT member finally put the truck to a end with a 50 caliber bullet into the drivers engine disabling it.
"He would've killed somebody. Let me make this clear: Had it not been shut down, had we not gotten involved, the way he was recklessly driving a 5,000 or 10,000-pound vehicle, somebody would've been dead today," said Neudigate.
The driver then threatened to kill himself with a knife, but was tased by officers and taken into custody.