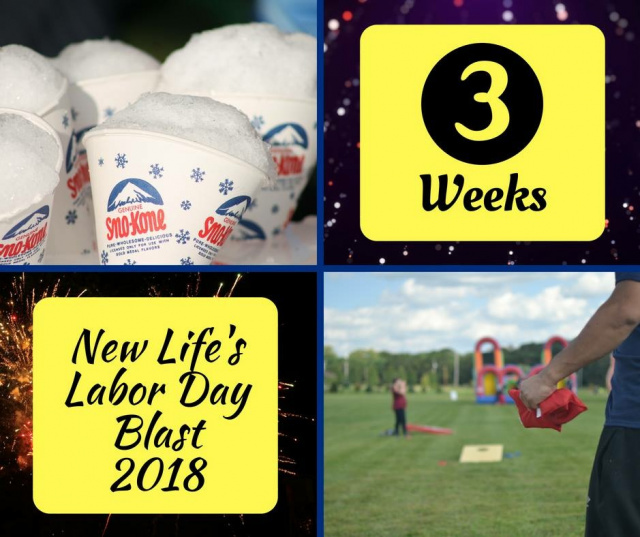 New Life Church will be holding its 3nd Annual Labor Day Blast on the Sunday of Labor Day Weekend! After the overwhelming response from last year's event, New Life Church has decided to make it bigger and better this year! You won't want to miss the food eating contests, inflatables, carnival games, and most of all, you definitely won't want to miss this year's FIREWORK SHOW! Also, you can feed your entire family for under $10 at the reasonably priced food booth. New Life Church is located at 7766 Stoutsville Pike in Circleville.  Last years event was bigger than the fireworks size of Chillicothe event.

We were able to ask Tim McGinnis the Missions Coordinators and Young Adult Leader of the church a few questions.
How many people are you expecting? "Estimated 800-1000 attended in 2017 year, with many more reporting watching it from town, i.e. Big Lots parking Lot. Last year we had 1,700 people and we expect this one to be bigger than that."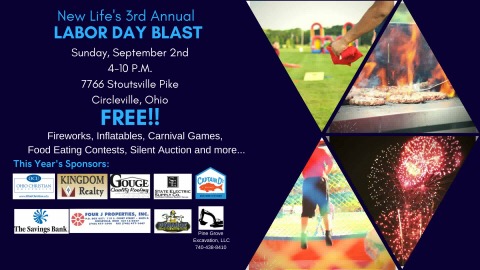 You said this is a free event? "Everything is free except for the food booth. $1 for Cheeseburger, .50 soda, .50 water, .25 hot dog, .25 chips, .25 cookies."
"Our goal is provide the Circleville community with a FREE event that comes packed with tons of fun and memory making opportunities. We hope that it becomes a tradition for citizens of Circleville and the surrounding Pickaway County area to come and see that church can be fun. It's not about religion, it's about a relationship, and we want people to feel that from us."
"Make sure you plan to come out this year, and bring your family and friends with you! Help us spread the word about this year's Labor Day Blast!"
Copyright 2018 by Sciotopost All rights Reserved.  This material may not be published, broadcast, rewritten or redistributed.