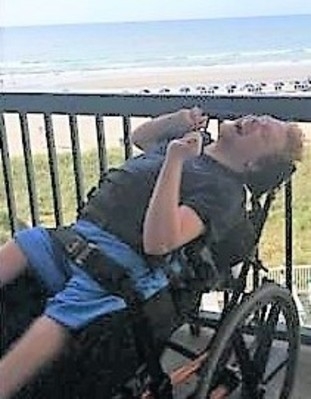 Chillicothe OH- Robert "Bobby" Lee Addy, 26, of Chillicothe, passed away unexpectedly on Saturday, September 28, 2019 at the Adena Pike Medical Center.
He was born March 10, 1993 in Chillicothe, Ohio, son of April (Nathaniel) Forcum and Joe (Carrie) Addy.
In addition to his parents, he is survived by his siblings; Daniel (Alisha) Addy, Cole Addy, Erik (Lasci) Addy, Charlie Joe Addy, Gage Pfeifer, Allie Pfeifer, and Makayla Forcum; two nieces, Emma Jo Addy and Piper Jo Addy; his grandparents, Donna Sue, Nancy (Dave), Stan (Annie), Greg (Tracey), and Rick (Marilyn); his great-grandmother, Janet Trego; a special uncle, Brett Jackson; as well as numerous other aunts, uncles, cousins, and friends; and his two canine companions, Zoey and Zeus.
Bobby graduated from the Ross County Pioneer Center, Class of 2011. In his free time he enjoyed sitting on the front porch listening to the windchimes, watching TV, and listening to babies cry. He also enjoyed going to sporting events, visiting the beach, and spending time with his family.
A funeral service will be held at 1:00pm on Saturday, October 5, 2019 at the Haller Funeral Home with Pastor Shaun Howard officiating. Burial will follow in Twin Township Cemetery. Friends may join the family for a visitation from 11:00am until the time of the service. Guests attending services are encouraged to wear casual clothing and Bobby's favorite color, orange.
In lieu of flowers, memorial contributions can be sent to Haller Funeral Home in his honor.
His online memorial guest book is available at www.HallerFuneralHome.com