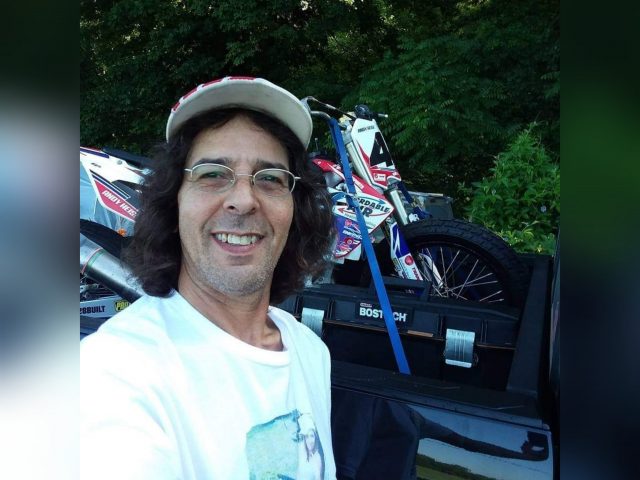 Chillicothe OH- Andrew A. Heise, 55, of Chillicothe, died 11:56 pm Wednesday, May 26, 2021 in the Ohio State University's Werner Medical Center's James Cancer Center following a courageous battle with Leukemia, not from a motorcycle crash like we all expected…or even what he would have preferred.
He was born September 20, 1965, in Columbus, Ohio, to his Dad (predeceased) Phillip and Linda Liscano Heise. On July 16, 1986, he married the love of his life, his high school sweetheart Ginger Conrad- Heise.
Also surviving are his mother Linda and step father, James Bragg of Circleville. A brother, Tony Heise and his longtime companion Teri Young, of Chillicothe; a sister, Donna Perry of Canal Winchester; beloved step brothers Dan (deceased) & Jeff Heise, of Amanda; James "LJ", Joe and Jason Bragg and wife Laura; step sisters Brenda, Kathy (deceased) & Debbie Heise; several aunts, uncles, nieces, nephews and cousins; numerous friends and fans from his flat track racing family from around the world but especially those made at Triangle Motorcycle Club in Harpster, Ohio.
Andrew was the owner and operator of 4F Pizzeria in Chillicothe where everyone called him the "Flying Pizza Man", a nickname that followed him to the track. He also worked in construction for many years and drove semi trucks. These were things he did but they were not how he "made a living". They simply fueled his true living, racing motorcycles. A passion that was instilled into him by his hero, his grandfather Andrew "peg" Liscano and tolerated by his Grandmother Louise Liscano. A passion that has transcended five generations in the family. The 4F plate will be passed to and carried on by his great nephew, his protégé in training Austin Andrew Mann.
Go fast, turn left.
4F forever.
A celebration of his life will be held at a later date which will be announced on his Facebook page. Arrangements are under the direction of the WARE FUNERAL HOME.
You may sign his online register at
www.warefh.com
Click HERE if you'd like to donate to the family.