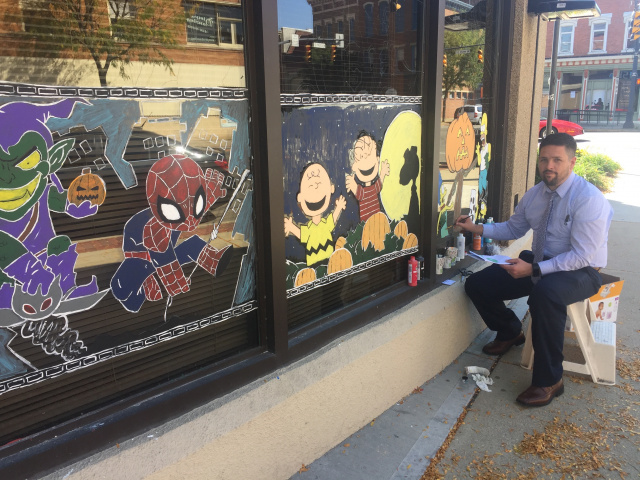 CIRCLEVILLE
"If I can see stuff, I can usually draw it. I started drawing as a kid and now I mostly do it for my kids," said Mike Strawser, the window painter. We caught Strawser "in the act" and asked him a few questions about what he was working on, just outside of the Chase Bank on Court & Main on Tuesday. Strawser said he's been painting the windows for years here in Circleville; he really enjoys it.  Strawser is the branch manager at Chase in Circleville.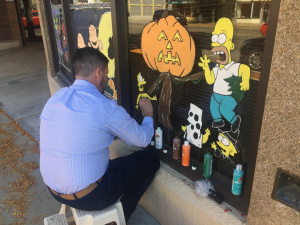 Strawser said that he works about 3 hours a day on it. This years' theme is favorite TV and movies featuring pumpkins. Mike's window features "Charlie Brown, The Great Pumpkin", "The Simpsons Tree House Of Horror", "Spiderman and The Green Goblin, as he throws exploding pumpkins", Cinderella, and a few others.
Strawser is about halfway through the project, happily enjoying the fresh air. He said, he "Likes being out with people that come by and give me compliments to my work. That is really rewarding. We have won several years' in the annual window contest, and it makes me feel great."
- Advertisement -
Strawser said, "Circleville has that small town feel but is large enough to have things going on. Everyone knows everyone's names. It has just a happy hometown feeling."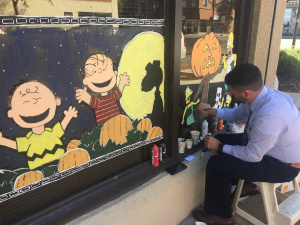 You can check out Strawser's work in progress at the corner of Court & Main in Circleville, at the Chase Bank.