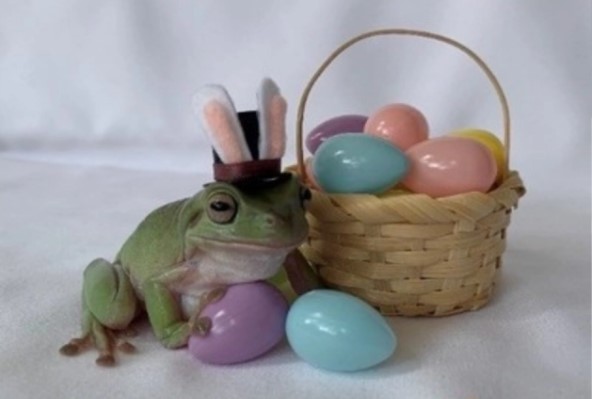 US – America has voted and this years 2021 Cadbury bunny is Betty the Tree Frog.
"Born less than a year ago, this is Betty's first Easter, and she's very excited to represent her amphibian friends. Betty sleeps during the day, but when the lights go out, the real fun begins. She enjoys snacking, bathing in her favorite bowl, jumping around and hanging out with her fellow frog friends. Aside from being the contest's smallest winner to-date and a natural at the bunny hop, Betty is also making history as the first amphibian and first female winner, said Hersey's in a press release.
"Betty's been a great addition to our home and we are so glad we get to share her with the rest of the world!" said Kaitlyn V., Betty's owner. "She has been a wonderful companion at college and thanks to the support of my friends, family and the amphibian community, I know she'll make Cadbury proud as she inherits the bunny ears."
Cadbury has over 12,000 entries nationwide, and was narrowed down to 10 finalists including a frog, donkey, miniature horse and goat.
Betty will win a 5,000 dollar cash prize, star in 2021 Cadbury clucking bunny commercial and To honor animals nationwide, the Cadbury brand is also donating $15,000 to the The American Society for the Prevention of Cruelty to Animals® (ASPCA®)