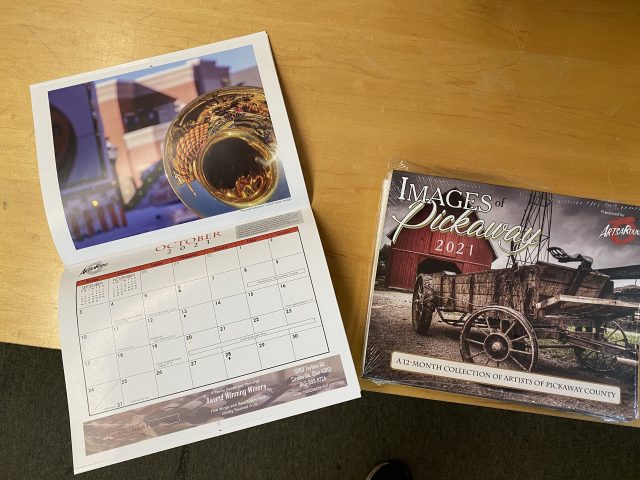 PICKAWAY – ArtsAround a non-profit entity that focused on supporting the arts and artist in Pickaway county has released their 2021 calendar.
For three years the group has focused some of the best local photos from the year and compressed it into The Images of Pickaway calendar for the holiday season. The funds from the sales go 100% back into ArtsAround. This is one of the major fundraising efforts for the group for the past three years.
Additionally, the calendar shows dates for local events and dates of historical significance relating to the area. Times being what they are, dates of events are always subject to change.

The cost of the calendar is $10, and 100% of all proceeds will go towards the ArtsaRound Pre-Collegiate Visual scholarship. This award is given annually to a Pickaway County 8-11 grade student who is considering a career in the arts. The organization works with the Columbus College of Art & Design to provide the winner with funds towards in-depth art instruction. The balance of funds collected from calendar sales will go towards the support of art-related endeavors in our county, such as public art, exhibits, and events.

The calendars are for sale at the ArtsaRound Gallery on the Original Circle, Rosena's Treasures, the Pickaway County Welcome Center, Circleville Apothecary, and Ashville Apothecary.

This year, in lieu of the traditional Calendar Gala celebrating the winning artists, the Gallery is hosting a month-long exhibit featuring the artists showcased in the calendar. This is the public's chance to see a bit more of the works of the featured artists. The show will run December 4 through January 3 at the Gallery, which is located at 135 West Main in Circleville. The Gallery is open Fridays 4-7 pm, Saturdays 10-6 pm, and Sundays 1-4 pm.

ArtsaRound is a non-profit organization that has been in existence for 20 years. Its mission is to support the artists of Pickaway County by generating interest, exposure, and opportunity. They primarily focus on the visual arts, but also support literary artists and performing artists. They meet on the 2nd Tuesday of each month at 7 pm at the Gallery. All who make art or love art are welcome to attend.