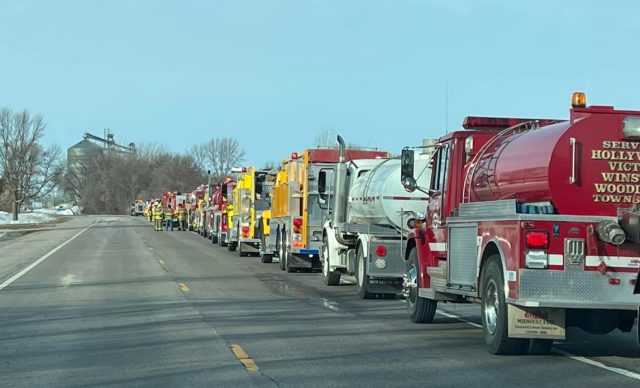 Minnesota – A small town has been evacuated after a train derailed and caught on fire, some of those train cars have toxic chemicals.
Located in Raymond Minnesota, the town consists of 800 residents. The train derailed on Thursday morning around 1 am.

According to the Minnesota Department of Transportation, Highway 23 is closed from Kandiyohi County Road 1 to Chippewa County Road 1 because of the derailment and fire.
The main chemical that has officials worried is ethanol that is now being allowed to burn out. EPA has now responded to the scene their statement is:
On March 30, at 1 a.m., a BNSF train derailed in Raymond, Minnesota. Four cars containing ethanol, a highly flammable product, ruptured, caught fire and continue to burn. Four additional cars containing ethanol may also release. The local fire department is currently the lead for the response and ordered a mandatory evacuation of the city. The evacuation remains in place.
EPA arrived on scene at 6:30 a.m. to provide air monitoring at and around the site and throughout the community. EPA's number one priority is – and will always be – the health and safety of communities. EPA will continue to coordinate with local, state and federal agencies to ensure the safety of residents and first responders in and around Raymond.