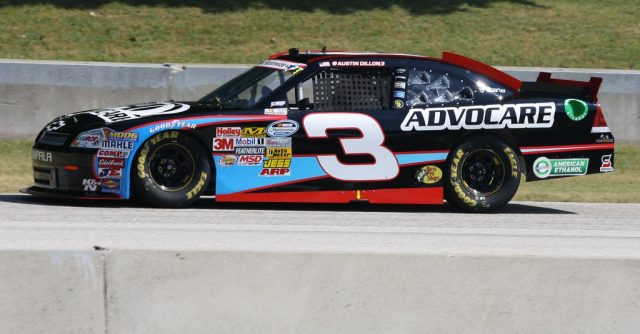 Multi-level marketer AdvoCare International, L.P. and its former chief executive officer agreed to pay $150 million and be banned from the multi-level marketing business to resolve Federal Trade Commission charges that the company operated an illegal pyramid scheme that deceived consumers into believing they could earn significant income as "distributors" of its health and wellness products. Two top promoters also settled charges that they promoted the illegal pyramid scheme and misled consumers about their income potential, agreeing to a multi-level marketing ban and a judgment of $4 million that will be suspended when they surrender substantial assets.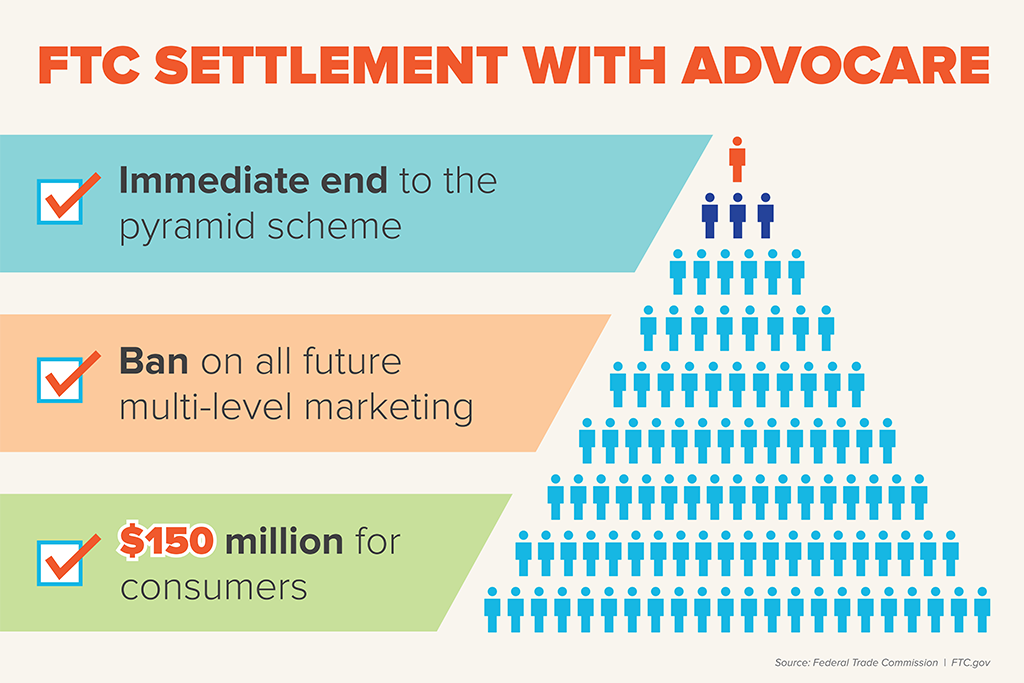 The FTC complaint filed in federal court also charges two other top AdvoCare promoters, Danny and Diane McDaniel, with unlawfully promoting a pyramid scheme, making deceptive earnings claims, and providing others with the means and instrumentalities to do the same.
The FTC alleged that Texas-based AdvoCare promoted a business opportunity distributing health and wellness products, such as its Spark energy drink, through a network of hundreds of thousands of participants, known in the company as distributors. AdvoCare pitched its business opportunity through conferences, webinars, conference calls, podcasts, social media posts, videos, and print materials, according to the FTC's complaint.
In its complaint against AdvoCare, former CEO Brian Connolly, and distributors Carlton and Lisa Hardman and Danny and Diane McDaniel, the FTC alleged that the parties falsely claimed to offer a life-changing financial solution that would allow any ordinary person to earn unlimited income, attain financial freedom, and quit their regular job.
In reality, the FTC alleged, the vast majority of AdvoCare distributors have earned no money or lost money.
"Legitimate businesses make money selling products and services, not by recruiting. The drive to recruit, especially when coupled with deceptive and inflated income claims, is the hallmark of an illegal pyramid." said Andrew Smith, Director of the Bureau of Consumer Protection. "The FTC is committed to shutting down illegal pyramid schemes like this and getting money back for consumers whenever possible."
According to the FTC, AdvoCare operated an illegal pyramid scheme that pushed distributors to focus on recruiting new distributors rather than retail sales to customers. The compensation structure also incentivized distributors to purchase large quantities of AdvoCare products to participate in the business and to recruit a downline of other participants with the same incentives. The clear directive of this structure was, as one AdvoCare distributor explained during the company's Success School training, to "recruit business builders who recruit business builders who recruit business builders. . . ."
The FTC alleged that under the AdvoCare compensation plan, participants were charged $59 to become a distributor, making them eligible to receive discounts on products, and to sell products to the public. To earn all possible forms of compensation, however, participants had to become "advisors," which typically required them to spend between $1,200 and $2,400 purchasing AdvoCare products and accumulate thousands of dollars of product purchase volume each year, according to the complaint. The FTC alleged that the income of AdvoCare advisors was based on their success at recruiting, with the highest rewards going to those who recruited the most advisors and generated the most purchase volume from their downline.
To recruit people, the FTC alleged, AdvoCare and the other defendants told distributors to make exaggerated claims about how much money average people could make—as much as hundreds of thousands or millions of dollars a year. The FTC alleged that distributors were told to create emotional narratives in which they struggled financially before they joined AdvoCare, but obtained financial success through AdvoCare. Distributors were also allegedly told to instill fears in potential recruits that they would suffer from regrets later if they declined to invest in AdvoCare.
The FTC alleged that the defendants told consumers that they could realize large incomes by promoting AdvoCare and that their earning capacity was limited only by their effort. For example, AdvoCare promoter Diane McDaniel told consumers that "the sky is the limit. I'm the variable. I get to decide what I truly want according to the effort I put forth" and that "there is incredible profit that can be made through infinity."
In reality, the FTC alleged, AdvoCare did not offer consumers a viable path to financial freedom. In 2016, 72.3 percent of distributors did not earn any compensation from AdvoCare; another 18 percent earned between one cent and $250; and another 6 percent earned between $250 and $1,000. The annual earnings distribution was nearly identical for 2012 through 2015.
In addition to a $150 million judgment and a permanent ban on multi-level marketing, the settlement order with AdvoCare and Connolly requires them to notify all AdvoCare distributors about the FTC's lawsuit and settlement, and to advise them that:
they will no longer be able to earn compensation based on purchases of distributors in their downline;
if they had significant losses pursuing their AdvoCare business, they may get some of their money back from the FTC; and
if they decide to discontinue their participation in the business opportunity, AdvoCare offers a 100 percent refund on unused products under existing refund policies.
The Commission vote authorizing the staff to file the complaint and stipulated final order/injunction was 5-0. The FTC filed the complaint and final order/injunction in the U.S. District Court for the Eastern District of Texas.



As a response, the CEO of Advocare released this response to the FTC's press release, calling their statements about the settlement wildly inaccurate.
Dear Distributors,
As you know, this past May, AdvoCare announced we would be transitioning to a single-level compensation model. This change was a result of long-term confidential conversations with the Federal Trade Commission (FTC) and we can finally announce the inquiry has been resolved. The FTC has released a statement about the inquiry, and we want to be very clear, we strongly disagree with the FTC's conclusions.
Although this is just now becoming public information, there are no more changes coming to the AdvoCare business model. We have already done the hard work and our hundreds of thousands of customers are still purchasing and using our premier health and wellness products.
I am also now at liberty to share more details about the conversations.
The FTC approached us nearly three years ago asking questions specifically related to our compensation model. We have dedicated enormous resources to the inquiry including hiring economic experts, retaining four national law firms with attorneys who have extensive knowledge of the government, and spending thousands of hours in meetings in Dallas and in Washington, D.C. that led to the agreement. In the end, it was abundantly clear the FTC was never going to allow AdvoCare to operate as we had before. It was never an option to continue in any other way than with a single-level compensation model. In fact, the FTC announcement states that AdvoCare is banned from multi-level marketing. The FTC incorrectly stated in a press conference this morning that AdvoCare had admitted to operating as a pyramid. This is categorically false. AdvoCare forcefully rebutted this charge in its discussions with the FTC. To this day, AdvoCare denies it operated a pyramid.
Throughout the investigation, we cooperated fully with the FTC, but also consistently disagreed with their allegations while working toward a solution where AdvoCare could move forward in a positive direction. It was critical to our AdvoCare family that we remain viable as a premier health and wellness company through the direct sales channel.
As a result of this final conclusion, AdvoCare has been directed to send you an email detailing the agreement with the FTC. That email will be sent sometime within the next few weeks. Again, none of this results in any other changes at AdvoCare. We are here to support you in the best way we can and ensure you have the answers to move forward confidently.
I want to reinforce that our path forward is clear.
We've already done the hard work to change the business model. No other changes are coming as a result of this announcement. Our premier products remain highly valued in the marketplace and continue to be in great demand by consumers. We finally have a conclusion and are fully focused on moving forward with confidence. Additionally, the FTC incorrectly stated this morning that AdvoCare is considering additional sales channels such as GNC, Walmart or others. This is absolutely not true as we are not considering retail channels and remain committed to our distributors and customers.
On behalf of everyone at AdvoCare, we are so grateful for every Distributor. We will continue to support you in building Champions around the world by sharing our incredible products.
Sincerely,
Patrick Wright, AdvoCare CEO"