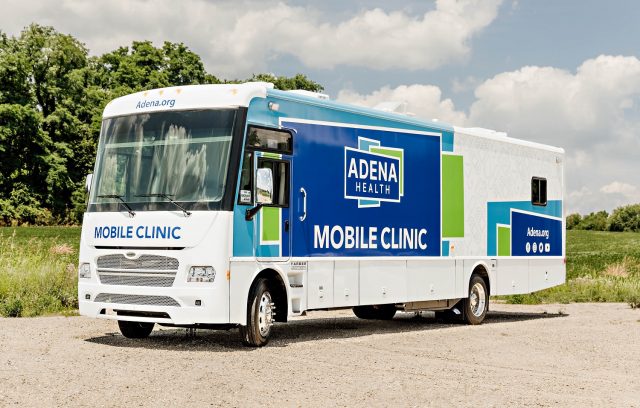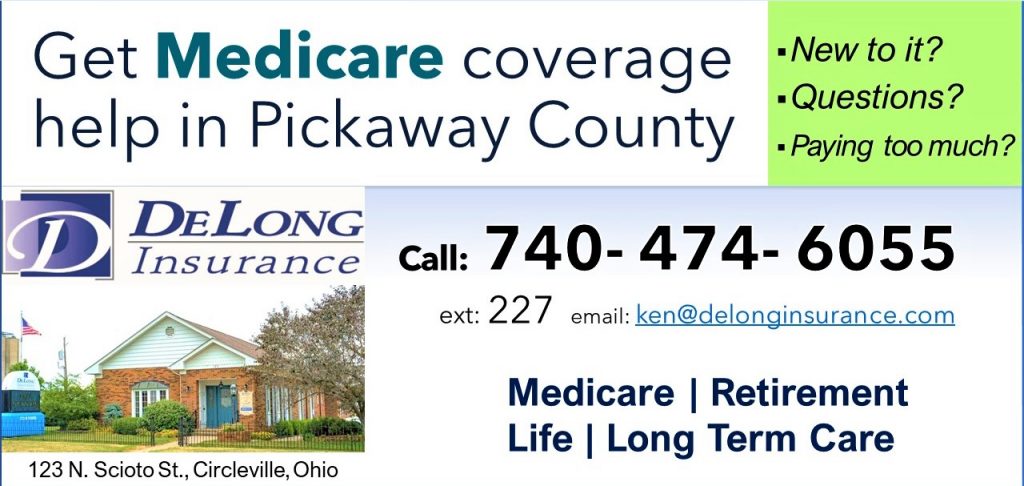 CHILLICOTHE, OH (July 17, 2023) – When you're a parent, nothing is more important than your child's health.
Adena Health recognizes that, and as part of its longstanding commitment to the communities it serves, wants to make sure your children have as much access as possible to quality, convenient health care when they need it.
Earlier today, the health system officially unveiled its new mobile clinic for school-based health. The clinic will travel to partner school districts each month to assist with any medical emergencies that may arise, provide help to students in managing chronic health conditions, and offer other services to students in busy families who may otherwise have difficulty finding time to get to medical appointments.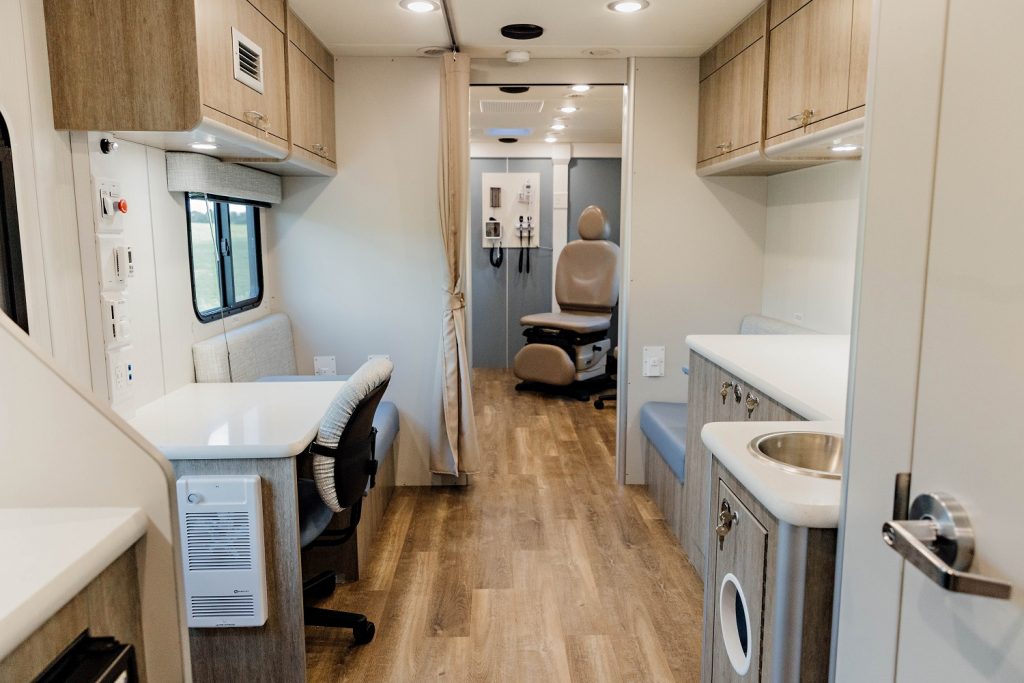 The mobile clinic contains a pair of exam rooms and other amenities staffed by Adena Health providers who have volunteered to offer students a wide range of primary care services in a safe, clinical environment.
"This is a day a few years in the making," said Kim Jones, director of community health and development. "Adena has had a longstanding relationship will area schools going back 20 years when we began providing athletic training and sports medicine services to them. Having established those partnerships, it made sense for some of them to come to us when they started noticing the needs of a lot of the students in their districts who just aren't getting access to the medical care they need."
Jones also thanked all of Adena Health's community partners that also played a role in making the vision for a mobile clinic into a reality.
The launch of a pilot program coinciding with the start of the new school year will involve five partner school districts: Adena, Huntington, Miami Trace, Pickaway-Ross Career and Technology Center, and Unioto. Plans call for the mobile clinic to be expanded to additional school districts in 2024.
"We had several meetings over the past couple years with Adena and did several community surveys and surveys with our staff and students' families to see what the needs were," said Dan Riddle, director of special programs for the Huntington Local Schools. "Being here today and being able to see the result is great, and it's going to be huge for our community and for our students."
A wide array of services will be available to students that include wellness visits, lab work, immunizations, sick visits, and others that are also available in Adena Health's primary care clinics. Clinic staff also will be able to help connect students to one of the health system's primary care physicians if not already established with one or with specialists if the need arises.
No services will be provided unless a student's parent or guardian has given permission. In the case of such planned needs as vaccinations, blood work, checkups, or sports physicals, parents can contact the school nurse to get their student on a list to be seen during the mobile clinic's next visit. Billing will be submitted through the family's insurance like a normal office visit, with help made available to connect families with financial assistance personnel if they have gaps in insurance or no insurance at all.
Audrey Barker, Adena school-based wellness program manager, sees the mobile clinic as the start of a long-term health journey for the students it will serve.
"We don't want health and wellness to just be a check-off list for students, we really want them to make health a priority," she said. "The relationships they will build with this clinic and its providers and caregivers are going to be critical for them to see why it's so important for their personal health, their family's health, and their community's health."
Parents interested in allowing their child to be treated by the mobile clinic can opt in by completing a consent form that will be made available by the school. Those not interested will not be required to do anything to opt out.
Services offered through the mobile clinic are not meant to replace the established relationships with a family's current pediatrician or family doctor. Adena Health's mobile clinic simply offers another convenient care option close to home when needed.
The goal of partnering with schools in the mobile health effort is to keep students healthy and in the classroom, reducing hundreds of missed hours of learning due to illness, chronic health conditions, and time out of the school building for medical appointments. Providing access to care in the school setting has been proven to reduce the number of absences for students – helping to close academic achievement gaps and promote health equity – while also minimizing time away from work for busy parents.
The school-focused mobile health clinic is Adena Health's second mobile unit, joining a mobile mammography unit that travels throughout the health system's coverage area.
"This is just another example in which we keep care close to home," said Adena Health President and CEO Jeff Graham. "We're excited about our partnerships with our schools and we want to continue to grow those relationships to take care of all of the children who come into our schools so we can give them the best healthy start to their lives that will carry them into adulthood for many, many years to come."