PICKAWAY – Ohio Redhawks baseball club will have a tournament on Memorial Day weekend that will directly affect veterans and people who have lost their lives fighting for our freedoms.
The Ohio RedHawks Baseball Club is a youth travel Baseball organization with select Baseball teams based out of Circleville, Ohio. A travel team that participates in tournaments all over Ohio.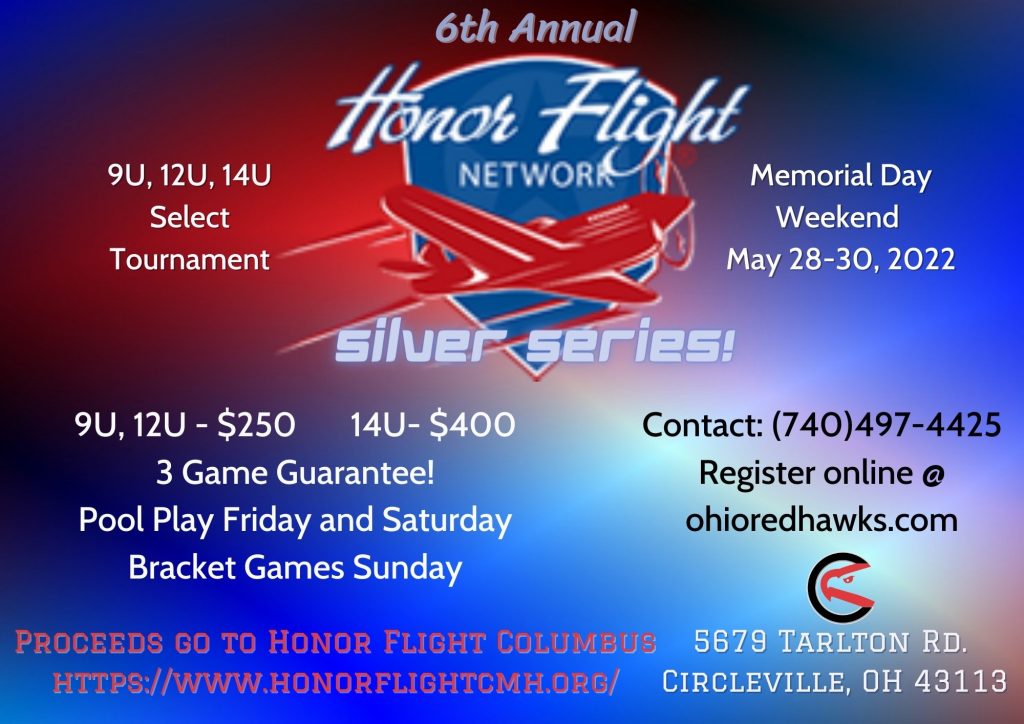 This weekend tournament is about raising money so our veterans can take a trip to DC all expenses paid to visit all the monuments. Honor flight Columbus is a nonprofit organization dedicated to honoring America's veterans from World War Two through Vietnam War with a trip to Washington DC to visit their service, and war memorials. These trips are free of charge to any qualified veteran.
"We strive to help veterans share their stories with future generations as well as celebrate their service to our country, with a proper homecoming that many never received."
"As of May 2022, Honor Flight has successfully flown 114 missions and that totaled 8188 veterans. The organization is funded entirely by donations from various businesses, foundations, school organizations, and other grateful Americans. Honor Flight Columbus accepts applications from American senior veterans currently anyone who has served active duty prior to May 7 of 75, which is the end of the Vietnam War. Veterans with guard and reserve service of over 20 years during that period are also eligible, World War Two Korea and Purple Heart and terminally ill veterans receive priority and are booked on the first available flights. Vietnam veterans are placed on a waitlist and are booked in order that we received their applications. The cost of a whole Honor Flight Columbus mission is right about $100,000. We are scheduled to do seven flights in 2022. We could not do our flights without our sponsors and donors who do fundraisers and send money to honor flight Columbus," said Beth Honor Flight Columbus chapter representative.
The tournament raises money in different ways with the registration of the different teams but also parking for people attending the tournament. 100% of the proceeds go to fund and sponsor a veteran. In 2021 the baseball tournament sponsored two veterans to go and pay respects to people who were lost.
This year the tournament will open up a home run derby for kids that are part of the tournament and to the community, along with a velocity challenge with a radar gun to see who throws the fast pitch.
Of course, everything has gone up over the past year according to Honor Flight, what used to cost us 700 a veteran costs us 1,000 dollars a veteran now. So part of this tournament is awareness, for other local businesses to say hey if you are looking to give back here's a way to give a donation and make an impact on the lives of someone who fought for your freedoms.
Ike Wampler said that he as a veteran and his brother Charlie Wampler took an honor flight in June of 2009 and it had a profound effect on him and especially his brother. Both the Wampler brothers served in the Vietnam War from 1968 to 1969.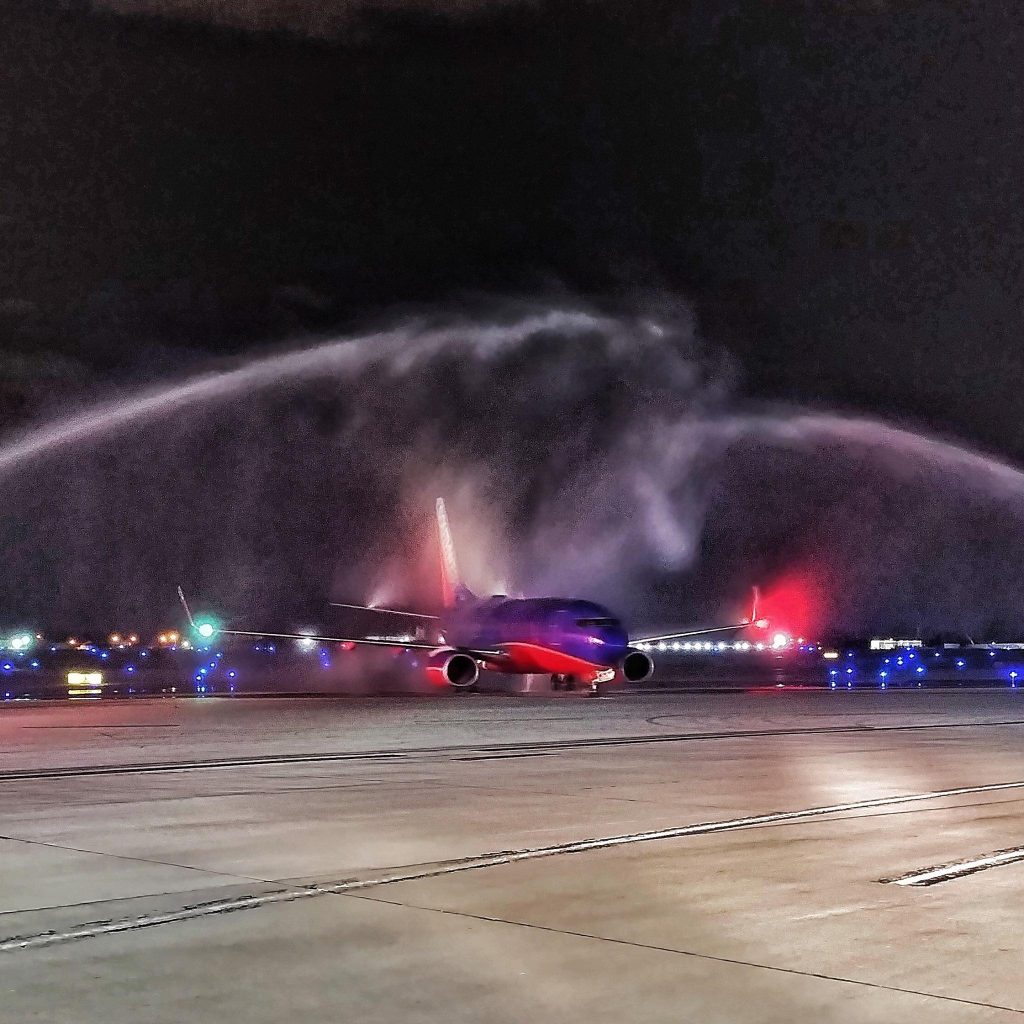 "And when he came back and throughout his whole life he had effects from the war, that we noticed as a family and as just kind of distanced itself a lot, said Ike, "he didn't talk about things, he didn't go to Veterans or memorials he just held it in."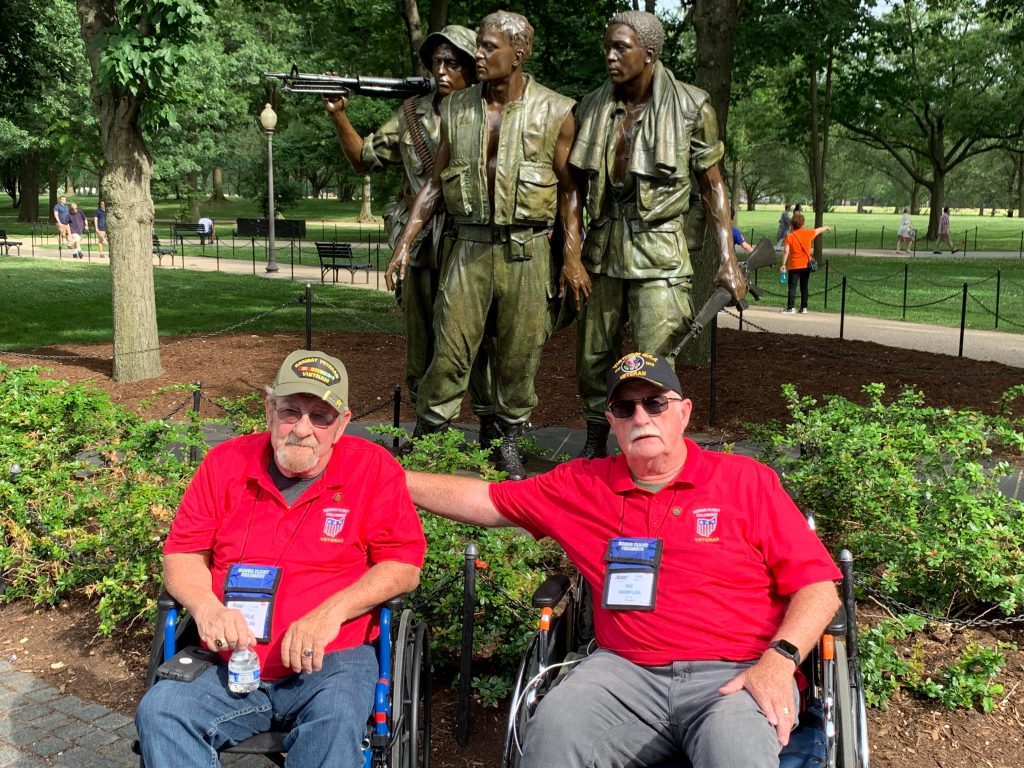 That's why through an advertisement Ike became interested in Honor Flight and talked his brother into the trip.
"People don't understand that when we came home from the war there were no parades, we were not treated as heroes, people treated us with anger."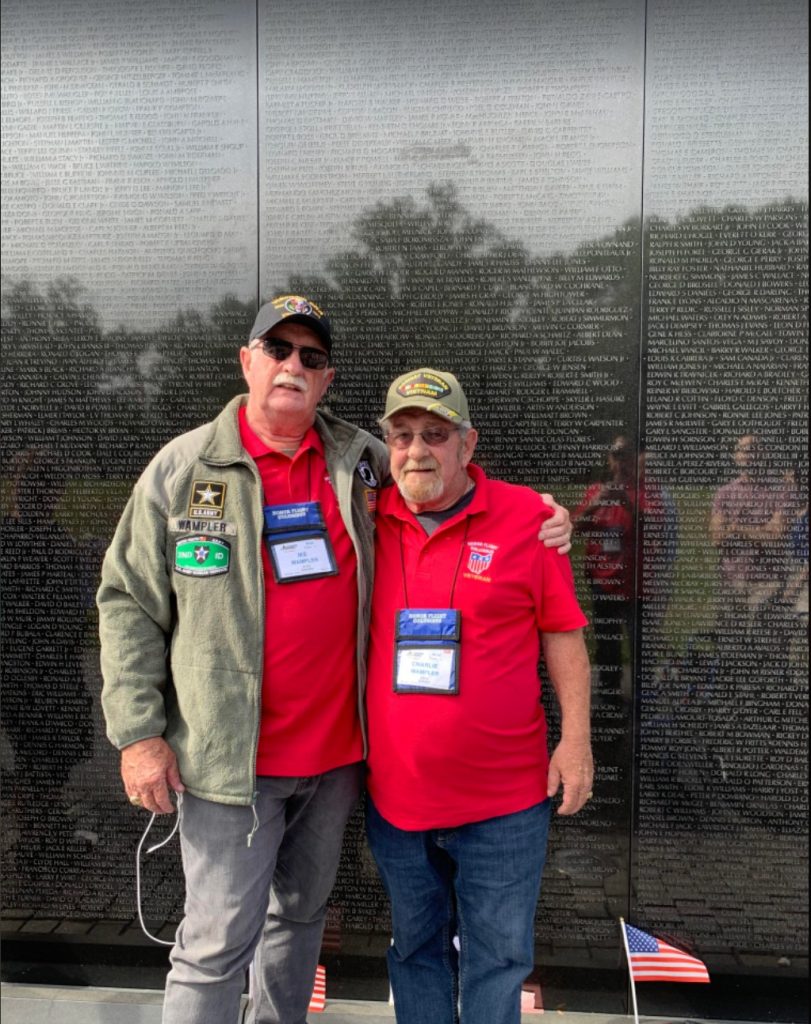 Ike said that some veterans took off their soldier's uniforms in the bathroom of their home airport and threw them away so they could walk out in regular clothes so they wouldn't get accosted.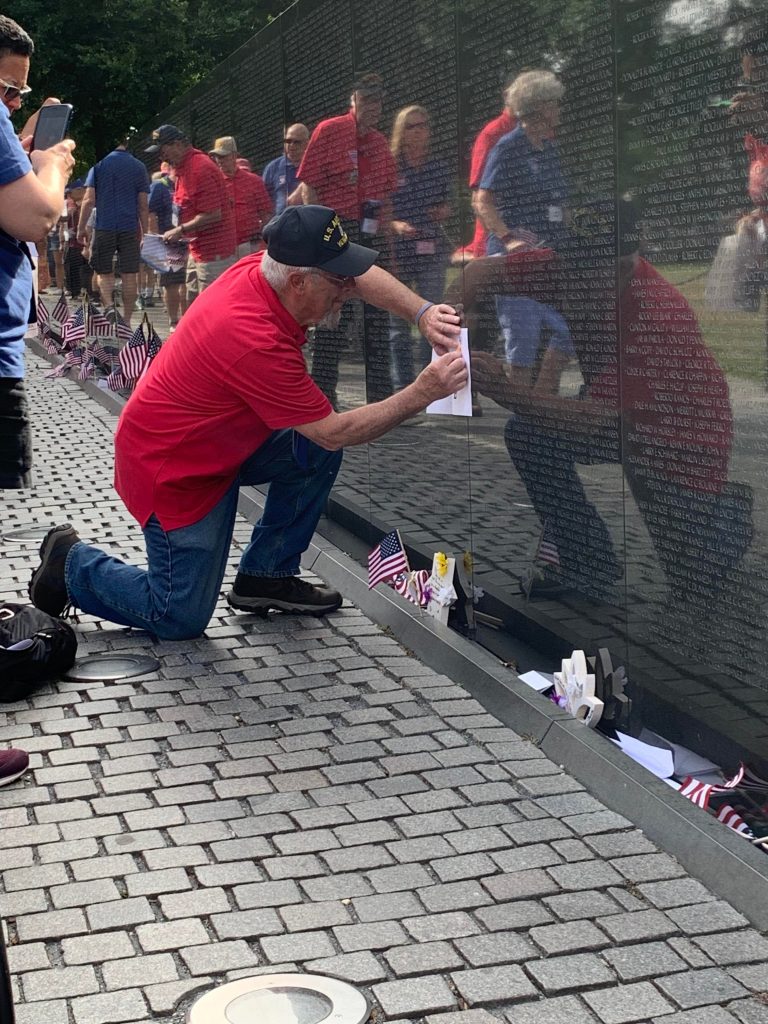 "Honor Flight was the parade and respect that we didn't get in 1969, it was something I will never forget. We showed up at the Columbus airport at five o'clock in the morning. When we parked our vehicle and got on the bus each side of the roadway was lined with people, holding signs, flags, boy scouts and other organizations had come out to just pay respect, it gave me cold chills. From there we went inside and they had breakfast for us, we were able to talk to other veterans that were on the flight. Some were WW2 veterans but a lot of our era veterans were there. I saw anyone take so much effort in making it about us."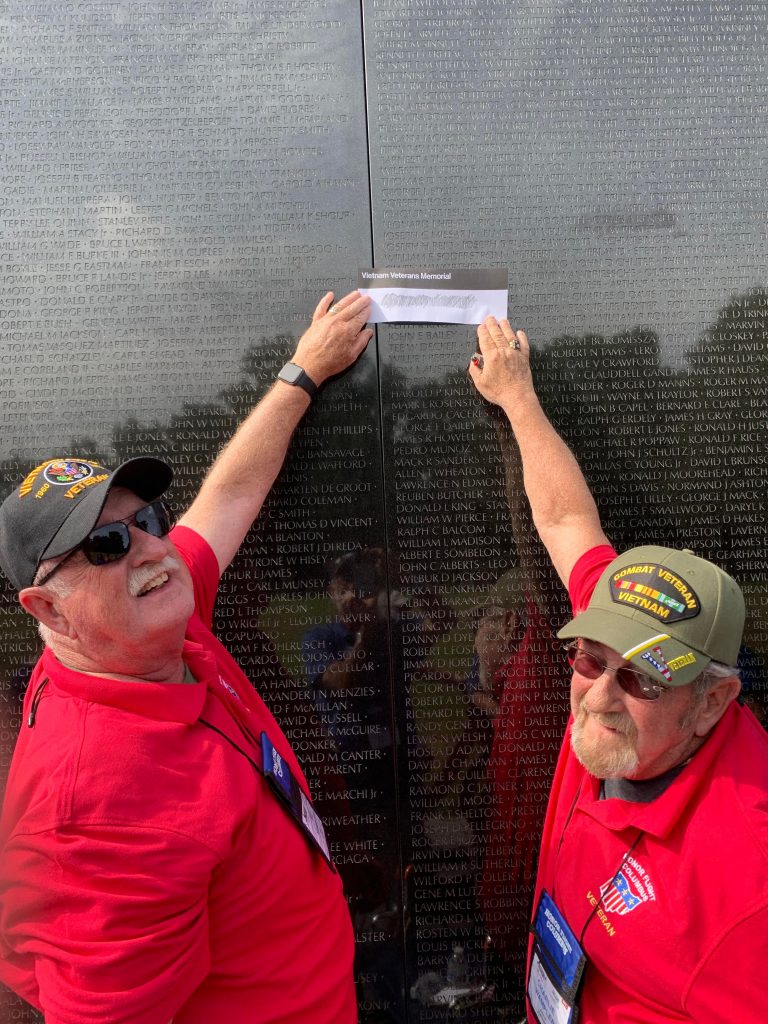 Ike described the day to us as everywhere they went they were greeted with honor and respect. When they arrived in Washington the veterans visited the memorials, the last stop being the Vietnam one.
"Ohio state fair had a traveling wall of Vietnam memorial, and I took my brother over to see it, I got him inside the gate, but when we started to go in he refused, but this honor flight was different than just Him and I, he was around people like him soldiers from a forgotten war, so when we stopped at the Washington Vietnam Memorial he went. So it was just phenomenal for me to be able to see him release whatever he had inside of him and be able to accept that what they had done was honorable."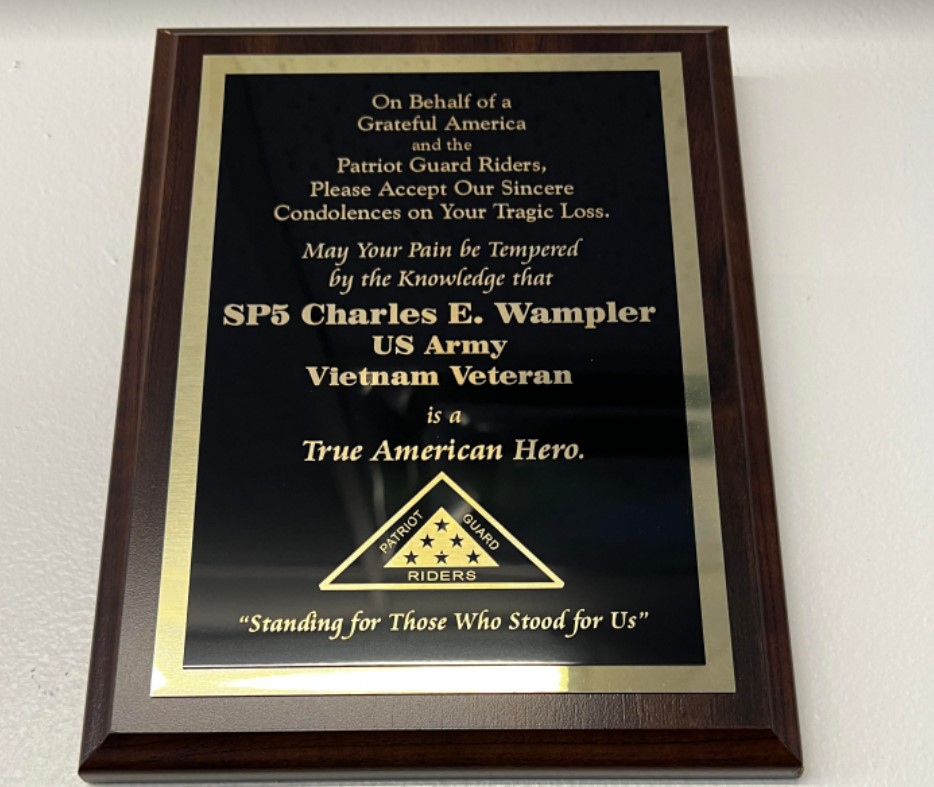 Ike said that he had keepsakes made of his and his brother's Honor flight trips because it was such an important day. His brother Charlie who has since passed away has a memorial at Speedy Muffler on 22 East that can be seen today.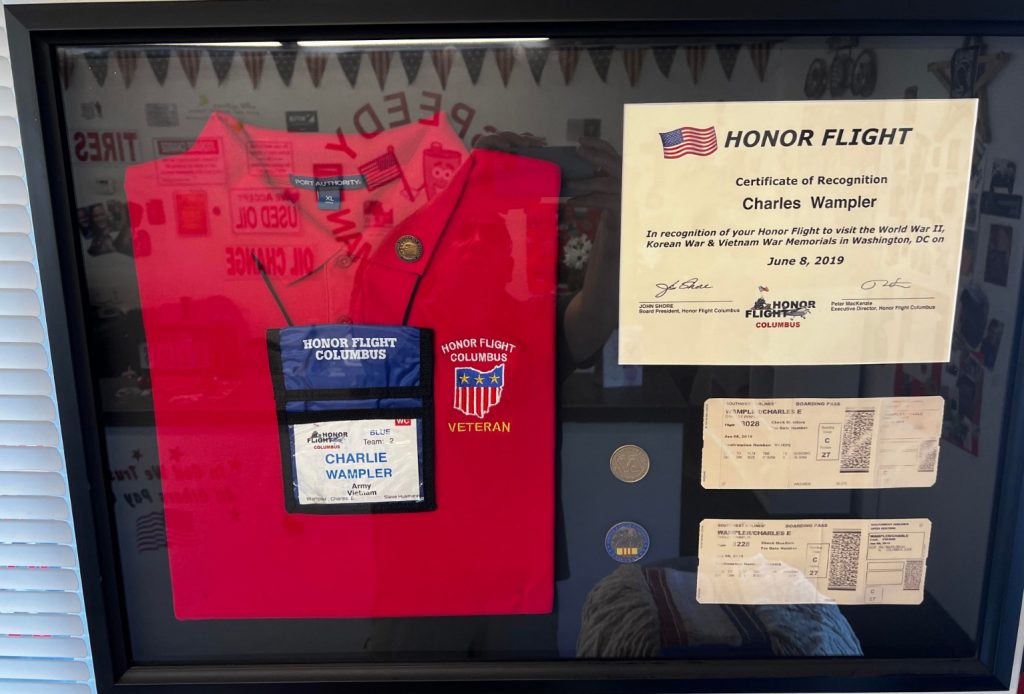 If you would like to donate to Honor flight or want to sign up a veteran for a trip click here: https://www.honorflightcmh.org/