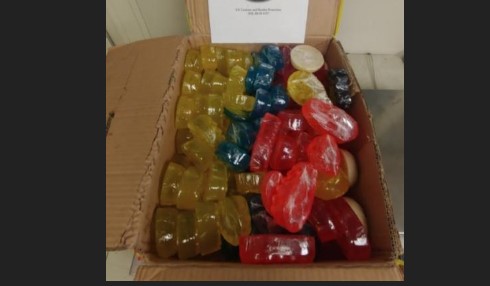 CINCINNATI– U.S. Customs and Border Protection officers at an Express Consignment Operations hub in Cincinnati seized two shipments arriving on different nights from the same shipper in Mexico on May 20 and May 21. The total weight of methamphetamine seized was 50 pounds.
A drug detector canine alerted to the first package and x-rays showed inconsistencies. When officers inspected the parcel, they found bars of soap. However, 37 pounds of methamphetamine was emulsified in the soap. This package was destined for a residence in Atlanta. The next night, CBP noticed the same shipper had another package arriving heading to a residence in Minnesota. The package had the same contents, soap with 13.5 pounds of methamphetamine blended inside.
The methamphetamine has a street value if $217,000. According to the DEA, methamphetamine is the drug most frequently identified in their reporting. About half of the DEA domestic field divisions are reporting price increases at the retail and/or wholesale level, particularly in areas where methamphetamine is most prevalent. The DEA is also reporting decreases in availability.
Methamphetamine is dangerous and highly addictive stimulants. Abuse can lead to paranoia, exhaustion, heart conditions, convulsions, stroke, and death. Methamphetamine are classified as Schedule II stimulants under the Controlled Substances Act.