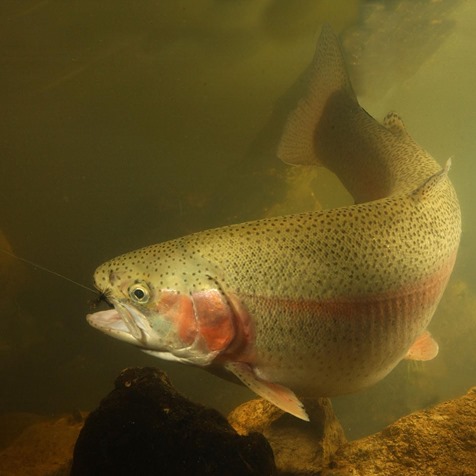 Rainbow trout releases will take place across Ohio during March through May in 2022, as long as areas are ice-free and accessible to anglers. Stockings of these public lakes and ponds are excellent opportunities for families to fish together. Fishing for catchable-sized trout is a great way to introduce young people to the outdoors. Rainbow trout are raised at state fish hatcheries and measure 10-13 inches before they are released by the ODNR Division of Wildlife. The daily harvest limit for inland lakes is five trout per angler.
** Indicates a special angler event is planned for the trout release.
Call 1-800-WILDLIFE (800) 945-3543 for specific information.
Location Name
County | District
Release Date
ADAMS LAKE
Adams | District 5
3/15/2022
RUSH RUN LAKE
Preble | District 5
3/16/2022
FORKED RUN LAKE
Meigs | District 4
3/17/2022
WOLF RUN LAKE
Noble | District 4
3/23/2022
BELMONT LAKE
Belmont | District 4
3/24/2022
LAKE ALMA
Vinton | District 4
3/24/2022
CALDWELL LAKE
Ross | District 4
3/24/2022
BLUE ROCK LAKE
Muskingum | District 4
3/25/2022
TIMBRE RIDGE LAKE
Lawrence| District 4
3/25/2022
BARNESVILLE RESERVOIR #3
Belmont | District 4
3/25/2022
MT. GILEAD LAKE
Morrow | District 1
3/31/2022
NEW LEXINGTON RESERVOIR 1A
Perry | District 4
3/31/2022
BLUE LIMESTONE PARK
Delaware | District 1
4/1/2022
FOUNDATION PARK
Knox | District 1
4/1/2022
CLARK LAKE
Clark | District 5
4/1/2022
ROCKY FORK STATE PARK POND
Highland | District 5
4/1/2022
LAMBERJACK LAKE
Seneca | District 2
4/1/2022
SHELBY RESERVOIR #3
Richland | District 2
4/4/2022
PETROS LAKE
Stark | District 3
4/4/2022
ROWLAND NATURE PRESERVE LAKE
Lorain | District 3
4/4/2022
WALKER ROAD POND
Lorain | District 3
4/4/2022
NORWALK RESERVOIR #1
Huron | District 2
4/5/2022
JEFFERSON LAKE
Jefferson | District 3
4/5/2022
GLACIER LAKE
Mahoning | District 3
4/5/2022
QUARRY PARK
Marion | District 1
4/6/2022
VAN WERT RESERVOIR #1
Van Wert | District 2
4/6/2022
DELTA RESERVOIR #2
Fulton | District 2
4/7/2022
PAINESVILLE RECREATION PARK POND
Lake | District 3
4/7/2022
VESUVIUS LAKE
Lawrence | District 4
4/7/2022
MCKARNS LAKE
Williams | District 2
4/7/2022
HINCKLEY LAKE
Medina | District 3
4/8/2022
PUNDERSON LAKE**
Geauga | District 3
4/9/2022
LITTLE TURTLE POND**
Summit | District 3
4/9/2022
YOCTANGEE PARK LAKE**
Ross | District 4
4/9/2022
PIKE LAKE**
Pike | District 4
4/11/2022
CENCI PARK LAKE
Fairfield | District 1
4/14/2022
SILVER CREEK LAKE
Summit | District 3
4/14/2022
VETERAN'S PARK POND
Lake | District 3
4/14/2022
ANTRIM LAKE
Franklin | District 1
4/15/2022
HERITAGE PARK
Franklin | District 1
4/15/2022
ROSE LAKE**
Hocking | District 4
4/15/2022
WHITE STAR QUARRY
Sandusky | District 2
4/15/2022
JACKSON CITY RESERVOIR**
Jackson | District 4
4/16/2022
WILLSHIRE QUARRY**
Van Wert | District 2
4/16/2022
PEARSON METROPARK PONDS**
Lucas | District 2
4/16/2022
CANNONBALL POND**
Lucas | District 2
4/16/2022
LIMA LAKE
Allen | District 2
4/18/2022
SWANTON WATERWORKS RESERVOIR
Lucas | District 2
4/18/2022
TAWAWA LAKE
Shelby | District 5
4/18/2022
BRUSHWOOD LAKE
Summit | District 3
4/19/2022
MUNROE FALLS LAKE
Summit | District 3
4/19/2022
DAVIS LAKE
Auglaize | District 5
4/20/2022
DOW LAKE
Athens | District 4
4/21/2022
SYCAMORE STATE PARK POND
Montgomery | District 5
4/21/2022
MALABAR FARM SP INN POND**
Richland | District 2
4/22/2022
SHADOW LAKE
Cuyahoga | District 3
4/22/2022
BEARTOWN LAKE (LOWER)
Geauga | District 3
4/22/2022
MAUMEE BAY FAMILY POND**
Lucas | District 2
4/23/2022
ROOSEVELT LAKE**
Scioto | District 4
4/23/2022
TURKEY CREEK LAKE**
Scioto | District 4
4/23/2022
EAST HARBOR STATE PARK POND**
Ottawa | District 2
4/23/2022
SLEEPY HOLLOW PARK**
Lucas | District 2
4/23/2022
SUNBURY UPGROUND #1
Delaware | District 1
4/29/2022
OHIO CANAL LOCK #4**
Stark | District 3
4/30/2022
OLANDER LAKE**
Lucas | District 2
4/30/2022
CROSS ROADS INDUSTRIAL PONDS**
Crawford | District 2
4/30/2022
EYMAN PARK**
Fayette | District 1
4/30/2022
ASHLEY UPGROUND**
Delaware | District 1
4/30/2022
OHIO / ERIE CANAL
Cuyahoga | District 3
5/6/2022
STONELICK LAKE**
Clermont | District 5
5/7/2022
GIERTZ LAKE**
Hancock | District 2