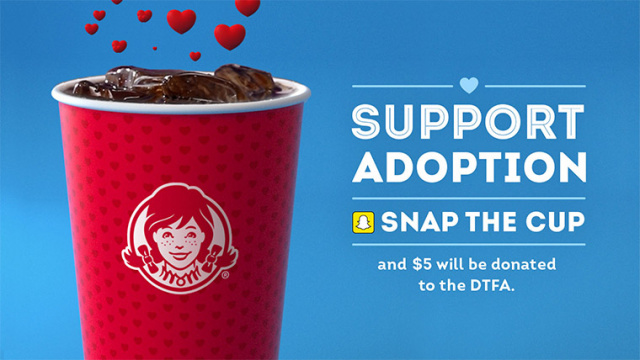 USA – It is no secret that Wendy's Restaurant is a supporter of adoption and foster care, Wendy's Dave Thomas was adopted himself when he was 6 months old to a couple from Kalamazoo Michigan.
Dave Thomas Foundation for Adoption is a non-profit national public charity exclusively dedicated to finding permanent homes for loving families for children in North Americans foster care system.
Last month Wendys offered a new kind of way to give back. In a press release Wendys said.
In celebration of National Foster Care Month, we're proud to bring back Cause Cups: a simple way you can help Wendy's® raise money to support the Dave Thomas Foundation for Adoption. Funds raised from the Cause Cup program* will help the Foundation continue to scale Wendy's Wonderful Kids so they can continue to work towards their goal of finding a permanent, loving home for every child in the foster care system. It's so easy, all you have to do is Snap a photo!
Starting this May, we're partnering with Snapchat again to spread the love and support adoption through our Cause Cup program that now features a unique Snapchat lens. Here's how it works:
New Snapchat technology will prompt Snapchat users to scan their phone over the Wendy's cameo on our beverage cups

Once your camera detects the marker, a unique Wendy's experience comes to life in the Snapchat app

This immediately shareable content showcases the cup and will alert your followers that a donation has been made to the DTFA!

Thanks to the generosity of our friends at Dr. Pepper® and Coca-Cola®, Wendy's will donate $5 to the DTFA for every Snapcode scanned, up to $500,000.
It's a simple, fun way to support a cause that's been important to Wendy's since our founding 50 years ago.
The next time you visit a Wendy's restaurant, make sure to take a second to Snap a photo of your Cause Cup and share our commitment to supporting foster care adoption!