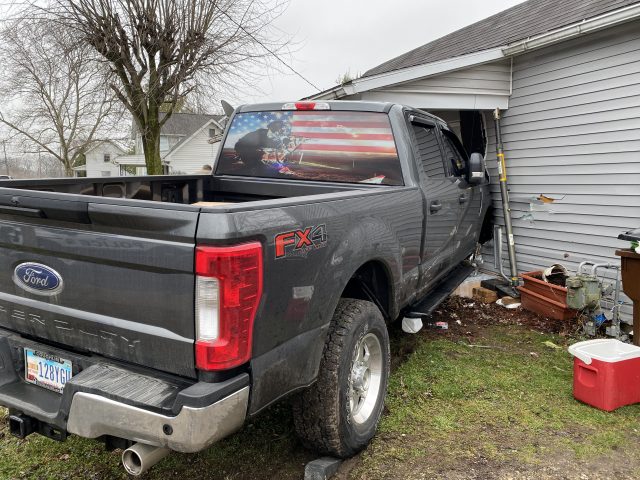 CIRCLEVILLE – Earlier today a call came into Circleville Dispatch to the report of a truck that hit a home located at 663 East Mound Street in the city.



According to police the 2019 Ford Fx4 Pickup truck was heading Eastbound on Mound Street when it clipped a white Jeep Cherokee Laredo that was parked on the side of the road. The impact broke the outer lip of the rim causing the tire to deflate and exit the rim. This caused the driver to lose control and leave the roadway and hit the home located at 663 East Mound street.

Inside the home was two individuals an adult and a young child that was in the room that the truck crashed into. Police reported that no one was hurt in either the truck or the home.
Individuals on scene said that the cement patio most likely slowed down the truck from entering the front room of the home.
A inspector from the city said that the home would not have to be condemned and was repairable.
Police cited the driver of the truck with the cause of the accident, the driver was wearing his seatbelt at time of the crash. Circleville Police and Circleville Fire/EMT were on the scene. Police said alcohol or drugs were not a factor in the crash.