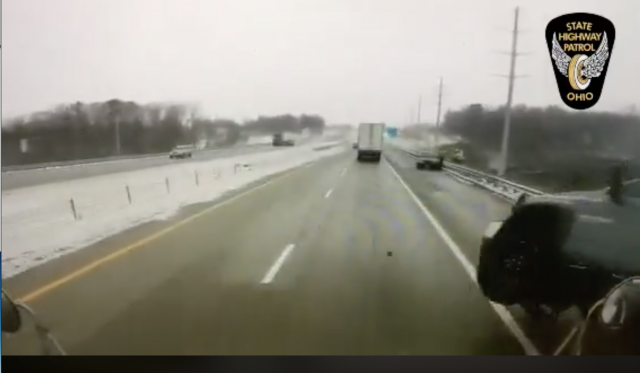 LIMA – A crazy and scary video was captured yesterday by the Ohio State Highway Patrol of a accident that happened on the I-75 interstate outside of Lima Ohio.  The video shows a truck losing control of his vehicle on a icy overpass, take note that most bridges and overpasses freeze quicker than normal roads so this is a great example of this.  After the truck loses control it hits the guard rail and sends the truck mercilessly into the grill of the semi.  If that wasn't scary enough the semi also has issues with the icy conditions and cannot stop immediately.



Then you see a worse case seinero unfold, a disabled car with three people around it that the semi truck cannot avoid.  In the corner of the video you can see the people beside the disabled car jump off the overpass in a desperate attempt to escape the accident unfolding in seconds before their eyes.
Ohio State highway wants to remind people in these situations to stay in your car vs standing outside because things like this can occur. Surprisingly no serious injuries occurred during this incident.