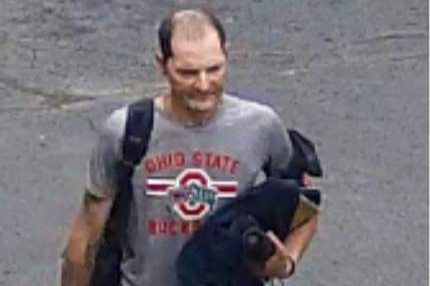 Columbus OH- *UPDATE 5/19/20 4:25pm: We've added new images of the suspect AND a 2nd male person of interest. We'd like to speak with both of them. -Det. Phillip Thomas
97-YEAR-OLD VETERAN ROBBED/KNOCKED DOWN – HELP ID THIS SUSPECT:
(This is disturbing on so many levels. Please help us identify the suspect. Starr is recovering.)
Last night, May 18, 2020 at 5:05pm, 97-year-old Rupert "Twink" Starr was approached by a panhandler for money in the 600 block of Neil Ave.
Starr gave the panhandle money from his wallet and turned to walk away… a cane in each of Starr's hands to help with his stability.
The panhandler/suspect approached Starr from behind & tried to steal his wallet. A struggle endued and the suspect knocked Starr to the ground & fled with the wallet.
An officer found the empty wallet nearby.
The suspect was caught on BP surveillance camera at Neil Ave. prior to the robbery purchasing a beer.
Anyone with info on this suspect's identity is asked to contact Det. Thomas at 614-645-4588 or pthomas@columbuspolice.org.
*If the name Rupert "Twink" Starr sounds familiar to you, he was the 2009 Grand Marshall of the Stonewall Columbus Pride Parade and has an amazing life story: https://stonewallcolumbus.org/veteransmonth/rupert-starr/