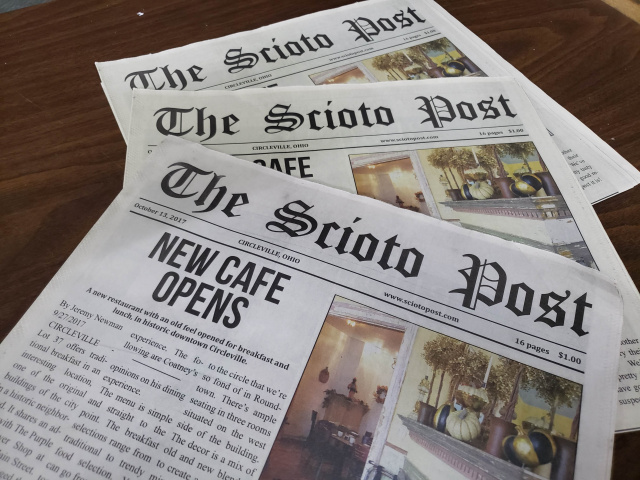 CIRCLEVILLE OHIO –
In the 21st century, the importance of newspapers has waxed and waned as television, radio, and online have carved into the market, and slowly whittled away at once-towering businesses.
Although the number of stories in local newspapers has dwindled and replaced much local content with state and national news, Pickaway and Ross Counties are bigger and more news-worthy than ever before. Stories have never stopped, but how they are documented has changed.
The Scioto Post wants to bring back the newspaper. A newspaper that you'll not only want to read, but require more than a glance in a shopping market to read.
However, to do this, we need your help. The reality of the Scioto Post is that we do not make enough money from our current sponsors to publish a monthly newspaper. Why? Because we want the paper to be 100% free to read, just like our online news. And to do this, we need to raise interested parties to sponsor the paper.
What We Want to Create
When you pick up a local newspaper, you get between 6 to 8 pages of content with only three to four local stories – sometimes more on the expensive weekend edition. Our newspaper wants to be massive – between 24 and 32 pages of strictly local news for Pickaway and Ross Counties. Free obituaries to families that otherwise pay to have their loved ones' information put in the paper. It would be a local newspaper with the thickness and content of a national paper – just for us locals. We've done papers in the past, made mistakes, and learned from them.
Being 100% free is the key to this idea, because it means that everyone will see our sponsors' ads, too, and engage with them in a much more meaningful way, as the sponsors are helping create the news rather than being a block in the way of the next news story.
What We Need to Raise
Our goal for the first monthly edition is $1,500. This would allow us to create, print, and distribute thousands of newspapers (24-32 pages) in the Pickaway/Ross area. Once we reach this goal, we can curate the paper and distribute it rather quickly – in about two weeks' time. From there, we would hope that the results will 'speak for themselves' and garner future editions for a population that wants more local news, but may not have a way to obtain it.
How You Can Help
Anyone interested in sponsoring an ad in the newspaper (which will include online/social advertising free of charge) can contact the Scioto Post at [email protected] or message us via our Facebook page. Sponsorship packages start at $100.00 for ads and $10.00 for classified/social blasts and can go up to and include full monthly newspaper sponsorship with front-page ad/story privileges.