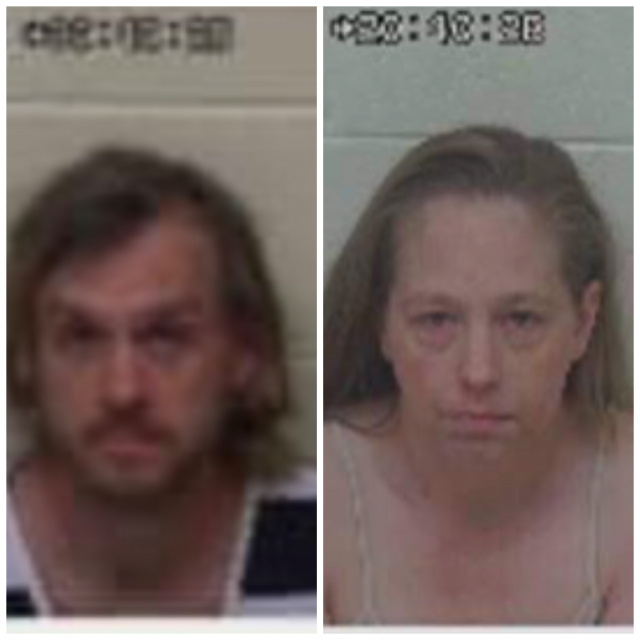 SCIOTO COUNTY – The two individuals in the Scioto County Standoff have now been officially charged with Aggravated Murder , Murder, Tampering with Evidence, and Gross Abuse of a corpse along with originally charges of Kidnapping, Endangering Children, Interference with Custody, and four county of Felonious Assault. According to Captain Murphy if they are found guilty of all counts they could face up to life in prison.
These charges spur from the death and kidnapping of their 4 month old son Dylan Groves that was thrown into a 30 foot well.
Child Dylan Groves Biological mother Jessica Groves lost custody of him just after birth because he was born addicted to illicit drugs.  Dylans biological dad Daniel Groves worked with caseworkers to return his son into his custody.  Shortly after returning custody Daniel Groves stopped working with caseworkers and became non-compliant.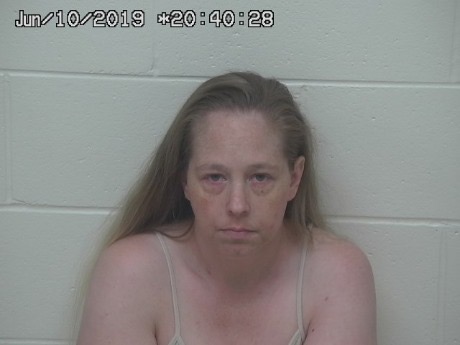 Captain John W. Murphy stated that after the child was returned to his father he had initially been compliant with all of the requirements set forth by Scioto County Children Services, then started missing court dates, home visits and doctor appointments for the child. Scioto County Children Services had made several attempts to locate the child and to persuade the father to comply with terms as agreed upon at the time of temporary placement, but neither could be located.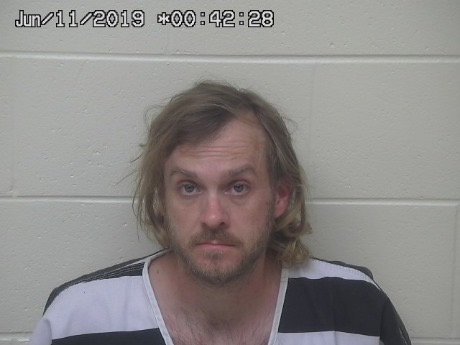 Captain Murphy stated that on May 3rd, 2019, a caseworker from the Scioto County Children Services came to the Sheriff's Office to obtain assistance in finding the child. Deputies along with the casework responded to the location of the father's residence located at 2241 Mount Hope Road, Otway Ohio but and was unable to obtain a response and all indication appeared that nobody was home. Deputies, representatives from the Scioto County Children Services and Juvenile Court repeatedly continued to return to the residence on multiple occasions in an attempt to locate the infant and father but without success.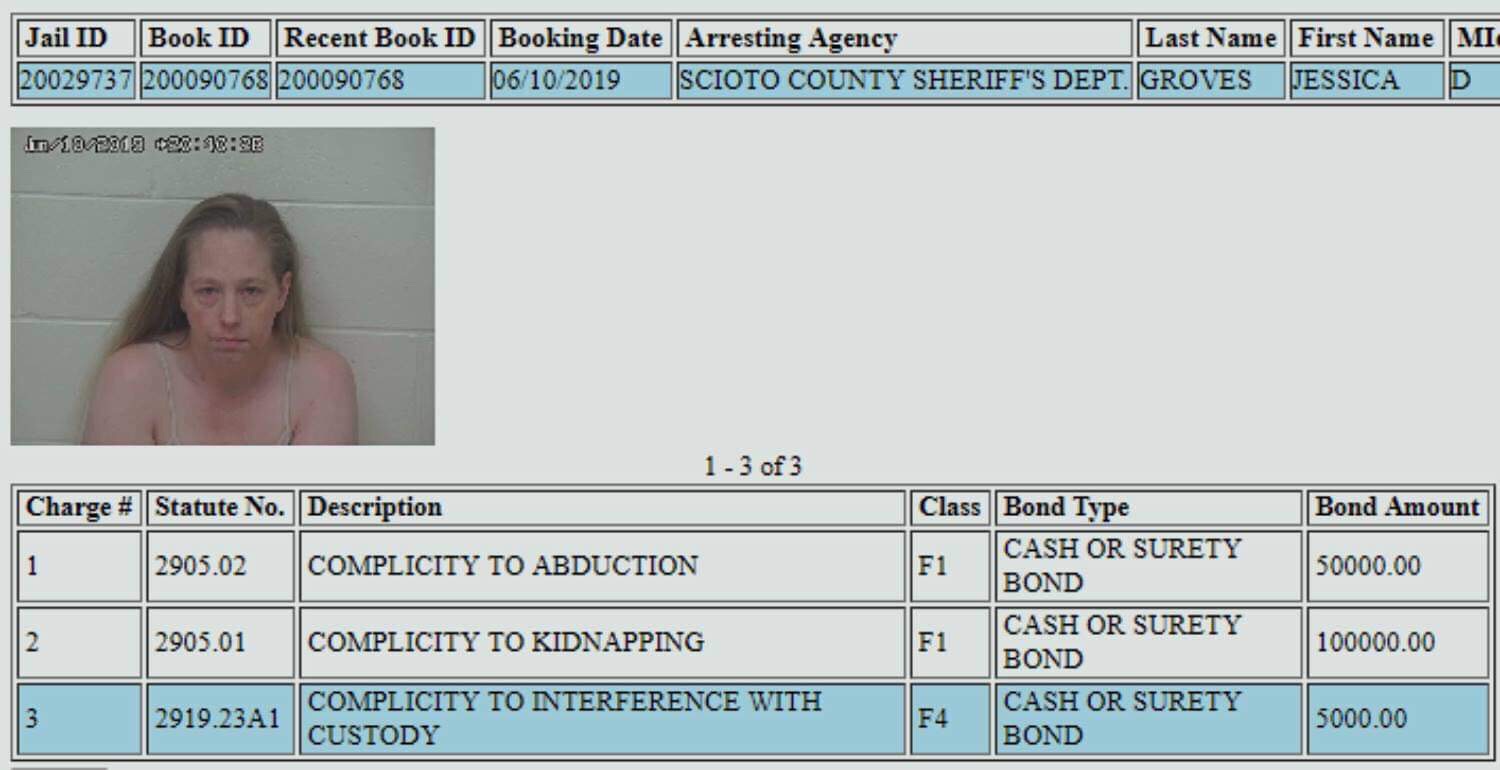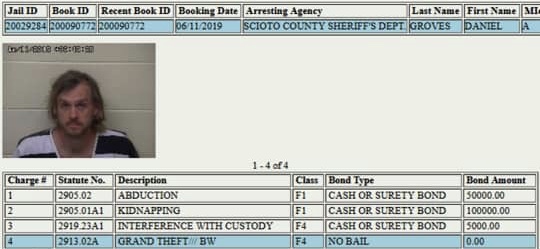 Sheriff Donini states that on May 20, 2019, Captain Murphy and Chief Deputy Todd Miller approached the residence in and to attempt to locate their whereabouts and actually observed the father and mother (Daniel and Jessica Groves) on a four-wheeler which resulted in a pursuit with the two fleeing off into the wooded area and resulting in avoiding apprehension.
Sheriff Marty V. Donini stated that on Monday, June 10, 2019, after meeting with the Scioto County Prosecutors Office, and Scioto County Juvenile Court, Detectives from the Scioto County Sheriff's Office were able to develop enough probable legal cause to obtain a search warrant for the residence and property. Sheriff's Office executed the search warrant along with assistance from the Southern Ohio Drug Task Force. Donini stated that Jessica was apprehended without incident from the residence while Daniel Groves barricaded himself inside. As a result, the Sheriff's Office requested the assistance from the Ohio State Highway Patrol Special Response Team which included the aviation unit who also assisted with a 6-hour long standoff which ultimately resulted in the apprehension of Daniel Groves.
Captain John Murphy stated that during this search warrant several stolen items were recovered on this property including two 4- wheelers, UTV, two stolen trailers, a riding lawnmower, a camper and other things valued at $ 42,000.
Captain Murphy states that as the result of the current information developed during this investigation, Detectives have reason to believe that the missing child is now deceased and has been since approximately late of March 2019. Detectives, BCI&I agents along with Ohio Department of Natural Resources Officer with cadaver dogs, have searched a wooded area where detectives have received information that the baby was taken and left after death. Murphy stated that currently, the baby's remains have not yet been recovered; however, additional searches will take place as new evidence surfaces.
Captain John W. Murphy stated that this investigation is still ongoing and that Detectives, along with the other agencies, have been working countless hours on this case and will continue to do so. Sheriff Donini and Captain Murphy stated that the successful arrest of both suspects was the result of all of the agencies working together as a team and he would personally like to thank everyone involved.
Arrested were: Jessica D. Groves age 39 of 2241 Mount Hope Otway, Jessica has been charged with one count of Abduction a felony of the 2nd degree, one count of kidnapping a felony of the 1st degree, 1 count of interference of custody a misdemeanor along with a contempt of court. Jessica is being held on a $100,000.00 bond. Also arrested was Daniel A Groves age 41 of 2241 Mount Hope Otway Ohio, Daniel who has been charged with one count of abduction a felony of the 2nd degree, kidnapping a felony of the 1st degree, interference with custody a misdemeanor, probation violation and served a warrant for theft and receiving stolen property. Daniel is being held without bond. Both will appear in Portsmouth Municipal Court on a later date.
Captain John W. Murphy stated that this circumstance concerning this investigation will be presented to the Scioto County Grand Jury in the very near future where additional criminal charges will likely result. Anyone with any information regarding this case should contact Detective Jodi Conkel at 740-351-1091. All calls will remain anonymous.