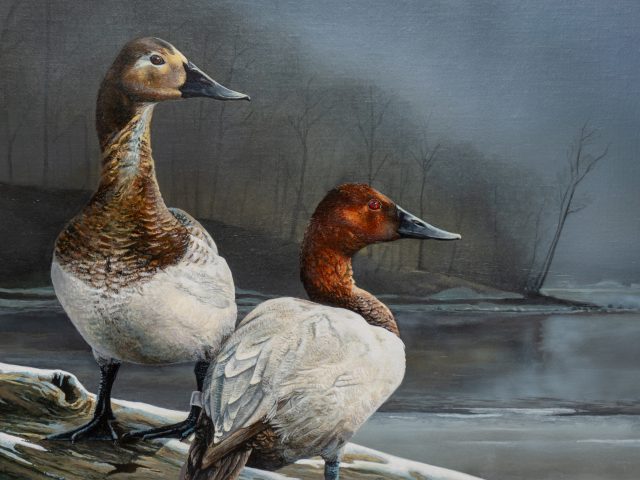 COLUMBUS, Ohio– An Ohio artist has taken home first place in this year's Ohio Wetlands Habitat Stamp Design Competition sponsored by the Ohio Department of Natural Resources (ODNR), Division of Wildlife. Sean Johnson of Louisville, Ohio, will have his painting of canvasback ducks displayed on the Ohio wetlands habitat stamp issued in fall 2022.
Judges selected Johnson's painting from a field of 10 original pieces of artwork submitted by artists from eight states, including three entries from Ohio. James Pieper of Wisconsin was awarded second place for his painting of hooded mergansers, while third place went to Frank Dolphens of Nebraska for his painting of green-winged teal.

Proceeds from stamp sales help fund vital wetland habitat restoration projects in Ohio. These habitats are important to many resident wildlife species, including state-endangered trumpeter swans, wetland birds, amphibians, and migratory species.

The competition was held virtually on March 19, 2021. The judges for this year's event included:

Aaron Dynes, Ducks Unlimited Senior Regional Director for South Ohio and West Virginia
Chip Hart, Host of The Big Outdoors Radio Show
Cheryl Harner, Richland County Park Board Commissioner and Clean Ohio Project Manager for Fleming Falls Preserve
Rick Graham, Izaak Walton League of America Ohio Division National Director, National Great Lakes Committee Chairman, and Lake Erie Foundation board of directors
Jon Dobney, Greene County Parks & Trails Director.