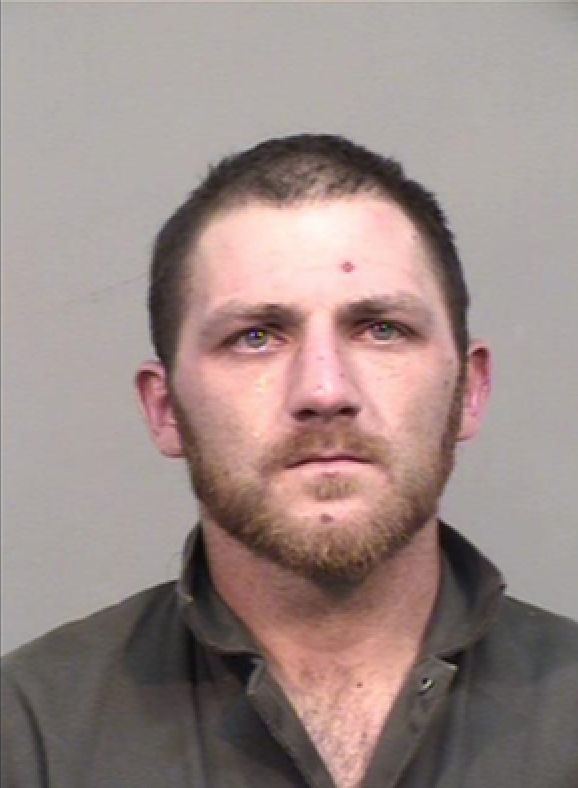 HOCKING COUNTY – On Monday, September 17th, the Hocking County Sheriff's Office received a report of a naked male acting erratically in the Haydenville area.
Deputies responded to the area and located the male sitting in a vehicle that had sustained heavy body damage. Deputies ran the license plate of the vehicle and found that the owner had multiple felony warrants for his arrest from Athens County; many of them for violent and narcotic offenses.
As deputies approached the vehicle, they ordered the individual to step out. The male started the vehicle and began to rev the engine as deputies approached. The vehicle fled the area and the deputies initiated a pursuit.
The pursuit went through the Haydenville area and onto State Route 595. During the pursuit, the suspect's vehicle began smoking due to the damage it had sustained prior to the deputies' arrival.
The vehicle became disabled and came to a stop on State Route 595 near Cohegan Road. Deputies exited their cruisers and began to order the male to exit the vehicle; the male hid his hands and indicated that he had a firearm or weapon of some kind.
After the deputies' commands were repeatedly ignored, deputies deployed a taser to attempt to gain compliance from the male. A physical struggle then ensued as the deputies attempted to remove the male from the vehicle.
As the deputies were removing the male from the vehicle, he put the vehicle into gear which rolled backwards, striking both of the deputies' cruisers.
The male was finally taken into custody after multiple deployments of a taser and a physical altercation in which both deputies sustained injuries.
A search of the male's vehicle resulted in the seizure of suspected narcotics and drug paraphernalia.
Austin R. Daugherty, 27 of Chauncey, after he was medically cleared, was arrested and charged with Failure to Comply with the Order or Signal of a Peace Officer, a Felony of the 3rd Degree and Assault on a Peace Officer a Felony of the 4th Degree.
He was also booked on his outstanding arrests warrants that were for Burglary, a Felony of the 2nd Degree, Grand Theft, a Felony of the 3rd Degree, Theft of Drugs, a Felony of the 4th Degree, Breaking and Entering, a Felony of the 5th Degree, Possession of Cocaine, a Felony of the 5th Degree, Aggravated Possession of Drugs, a Felony of the 5th Degree and Possession of Drugs, a Felony of the 5th Degree.
Daugherty was transported to the Regional Jail to await his arraignment in Hocking County Municipal Court.
Both deputies were released after medical clearance and have returned to duty.