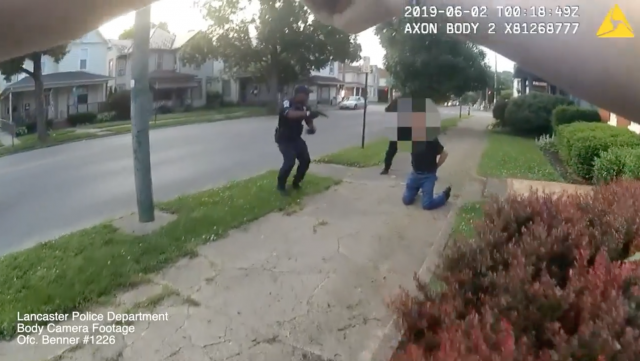 LANCASTER – A video that went viral on a elderly man that viewers thought was mistreated when a officer kicked the man to the ground before handcuffing him has been officially charged with several crimes.
William Brady III, 80 was officially charged this week after the incident with one county of failure to comply with a order or signal from a police officer, one count of inducing panic, and one count of discharging a fire arm within legal limits. All charges are misdemeanors.
According to police reports several 911 calls were made to the 800 block of Columbus street for a man walking on the sidewalk with a handgun to his head. He made no other threats to anyone else. When police arrived on the scene Brady fired one shot into the ground. When ordered to drop the weapon Brady first emptied the chambers of the gun then dropped the gun. During the arrest officers ordered the man to the ground and to lie face down on the ground with his hands behind his back. He partially complied with that order going to his knees.
In the viral video you can see the man kneel to his knees and one officer kick him to the ground before several other officers handcuff him. The same officer kneels down and retrieves the handgun that is less than a foot away from Brady.