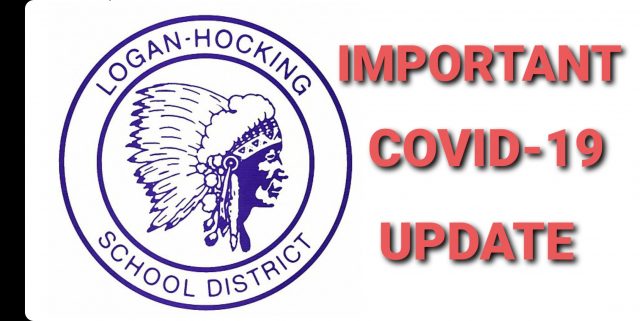 Hocking County OH- In a message to parents, the Logan-Hocking School District Superintendent discusses the COVID-19 pandemic. Also, a decision to be made no later than Friday November 20th, 2020 for all LHSD to be conducted remotely through a virtual learning program. Below is that message….
"I hope you are staying well as we continue to live, learn and work with Covid-19. Thank you for practicing social distancing, mask wearing, sanitizing and cooperating with quarantining measures if you have experienced a Covid-19 exposure. Without your efforts, our students would not have been able to return to in-person learning during this first half of the school year. It is incredible to witness what Chieftain Nation can accomplish when we work together toward a common goal for fellow students and families. 
LHSD has continued to work around the clock in collaboration with the Hocking County Health Department as we have faced an increase in cases across our community and state. As part of our commitment to safety and transparency, we are taking this opportunity to share our greatest concerns, which potentially place a strain on the district's resources and ultimately, the ability to continue in-person learning. 
As many of you are familiar, each time a positive or presumed case is identified in a member of our district, there is a ripple effect to fellow students and/or teachers who may need to quarantine as determined by our local health department. 
Thanks to your cooperation with our district's safety measures, we have been able to remain open, even with significantly rising case numbers. If cases continue to rise at this pace, we will be forced to make difficult decisions about our ability to continue in-person learning. Positive cases and exposures that require students, faculty and staff to quarantine directly impact the number of classrooms and staff available to serve our students.
Our resources will become exhausted as cases continue to rise. Now more than ever, it is imperative that we not only continue, but strengthen, the measures of social distancing, limiting gatherings, mask wearing and hand hygiene. We must be willing to make selfless choices outside of the classroom, so we can slow the spread in our community as quickly as possible. 
As of today, our plan is to keep students learning in-person. However, due to the current trajectory and strain of Covid-19 on our district, we are proactively preparing a plan for virtual, remote learning. We have developed an alternative, ready-to-be-implemented plan that if set in place, would place all LHSD students on a remote, virtual learning plan from Monday, Nov. 23 through Monday, Jan. 11. We will make this decision no later than Friday, Nov. 20. These dates are subject to change depending on Covid-19 related developments in our community.
In addition to our focus on the highest standard of academic instruction, we are also working to address the specific social, emotional, and physical needs of all who learn and work within our district. We can all do our part to reduce the spread as much as possible, as quickly as possible.
Again, as of now, our goal remains to keep students in school for their learning. However, we are creating these plans so that we are prepared and ready in the event we can no longer sustainably continue in-person learning in the current situation – a reality we are quickly approaching. Parents, we are announcing this possibility so that you have time to determine necessary childcare arrangements or other adjustments. As a reminder, each and every member of Chieftain Nation can help reduce the spread and increase the opportunity to stay in-person by proactively reducing the number of interactions with individuals outside of your household, and practicing social distancing and mask wearing in situations when you are around others. Continue frequent handwashing and sanitizing, and disinfect high-touch surfaces.
As always, stay home if you are feeling sick. The spread of the virus is certainly inevitable until we have a vaccine, but reducing the spread creates the strongest opportunity to keep our students in school. We greatly appreciate your cooperation as we continue to work diligently to address COVID-19 related challenges, with the health and safety of our students, staff and families as our top priority. Someday soon, the concerns from the virus will be in the past. Until then, keep up the hard work and know that by doing so, you are helping our community stay as healthy as possible.
Sincerely,
The Logan-Hocking Board of Educationand Monte Bainter, SuperintendentLogan-Hocking Schools(740) 385-8517″