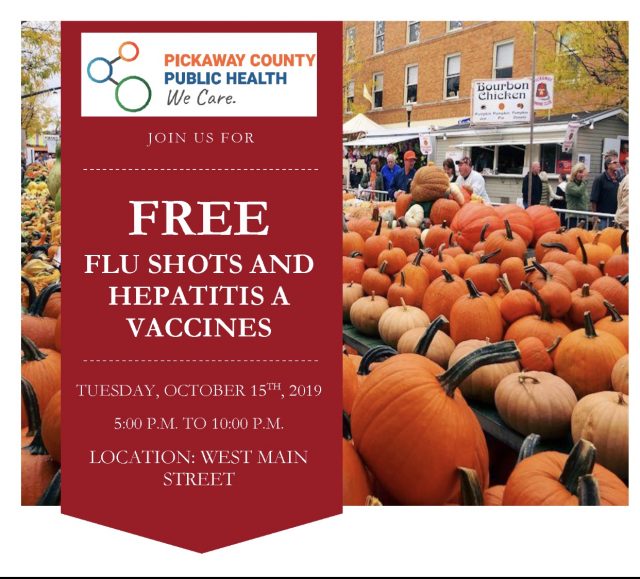 Circleville – Fight the flu this season by getting your flu vaccine and encouraging others to protect themselves and their loved ones by doing the same. Pickaway County Public Health is offering free flu shots at the Pumpkin Show on Tuesday, October 15th 5-10pm at the corner of West Main Street and Scioto Street.
The best way to protect yourself and your loved ones against influenza (flu) is to get a flu vaccine every flu season. Flu is a contagious respiratory disease that can lead to serious illness, hospitalization, or even death. CDC recommends everyone six months and older get an annual flu vaccine.
"Flu vaccination can help keep you from getting sick, missing work or school, and prevent flu-related hospitalization and death," said ODH Director Amy Acton, MD, MPH. "Getting vaccinated is especially important for older adults, young children, pregnant women, and people with long-term health conditions who are more vulnerable to serious flu complications."
"Vaccination is especially important for people at high risk of developing flu complications, and their close contacts. Also, pregnant women who get vaccinated not only protect themselvesfrom the flu illness but help to protect their baby from flu infection for several months after the birth, before the baby can be vaccinated" said Nasandra Wright, Health Commissioner at Pickaway County Public Health.
Getting your flu shot can reduce flu illnesses, doctors' visits, missed work and school due to flu, as well as prevent flu-related hospitalizations. Receiving your flu vaccination if you are healthy helps to prevent illness in our most vulnerable populations as well. It is also essential to practice good hygiene by properly and frequently washing your hands to help prevent the spread of seasonal flu.
Every season the flu sickens millions of Americans, hospitalizes hundreds of thousands, and kills tens of thousands, according to the CDC. During last year's flu season, Ohio reported 9,851 flu-associated hospitalizations and four flu-associated pediatric deaths.
Information about the health department is available on our website at www.pchd.org. Follow us on Facebook to keep up with all of our updates and the new initiatives we are starting for the public. For additional information on services provided by the clinical division please call us at (740) 477-9667.