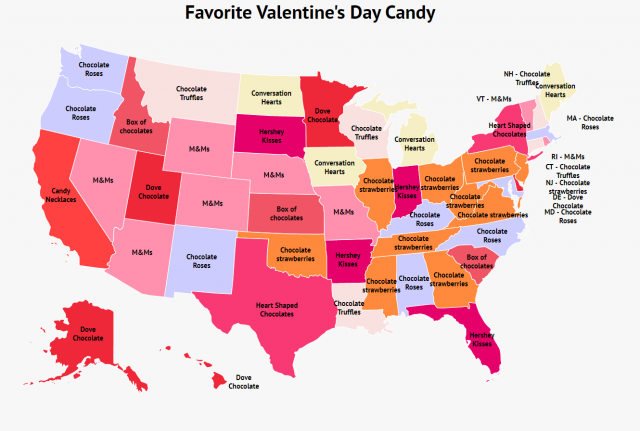 OHIO – Valentines day is just around the corner and surprisingly Americas prefer chocolate to any other V-day candy.
According to a poll on Zippia.com they find that 45 out of 50 states prefer chocolate, and Ohioans most popular Valentine's day candy is chocolate covered strawberries.
Chocolate roses and MMs tie for second place. Want to bet how many of those MMs are pink and white?
Brands matter, with Dove chocolates being preferred to Lindor.
California likes "candy necklaces" the most… which sounds like a slobbery mess around your neck, but to each their own.
Conversation hearts may be a stereotypical V-Day choice, but only 4 states prefer them. Guess most states prefer a more subtle "I love you."
Valentine's Day is like a box of chocolates in Kansas, South Carolina, and Idaho.
One thing is clear, giving people candy is a pretty big way of showing you care. In fact, 69% of Americans would rather have candy than chocolates for Valentine's Day. What type of candy should you bring to impress? Chocolate!