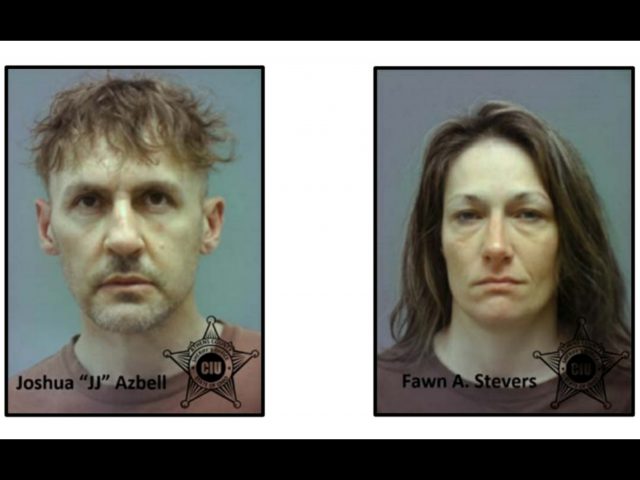 Our previous article released yesterday got an unexpected update this morning from the Athens County Sheriff's Office.
"As an update to yesterday's release: On January 14, 2021 the Athens County Sheriff's Office was notified by SEORJ that another 28 grams (.98 ounces) of heroin had been located after being concealed in a body cavity of Fawn Stevers. This brings the approximate street value to a grand total of $20,000. "
Athens County – On January 13, 2021 the Athens County Sheriff's Office Criminal Interdiction Unit with assistance from agents from the Major Crimes Unit and Ohio BCI conducted a traffic stop on US 33 near Nelsonville as part of an ongoing drug investigation. While on the stop, numerous individuals were identified as having warrants for their arrest. After deputies observed criminal indicators, K9 Bora was deployed to conduct a search of the vehicle at which time she did indicate to the odor of narcotics. Upon searching the occupants and the vehicle, drug paraphernalia was located. While on the stop, two of the suspects, identified as Fawn Stevers, age 37 of Nelsonville, and Joshua Azbell, age 44 of Glouster, were observed tampering with suspected heroin in their possession. Upon arrival to SEORJ, it was learned that Stevers and Azbell had attempted to conceal the suspected heroin inside body cavities to transport inside the facility. "Many agencies were involved in ensuring the success of this investigation." stated Sheriff Smith. "We will continue to serve our communities with the safety of our citizens in mind."
The driver of the vehicle, identified as Joshua Schall, age 35 of Guysville, was placed under arrest for five active warrants and transported to SEORJ. Charges for both Azbell and Stevers will be requested for Trafficking in Drugs (F1), Possession of Controlled Substance (Heroin F1), F3 Tampering with Evidence (F3), and Conveyance into a Detention Facility (F3). Approximately (74) grams (2.64 ounces) of heroin was seized during this investigation, which has an approximate street value of nearly $15,000. Additional felony charges are expected pending BCI lab results. The Athens County Criminal Interdiction Unit would like to thank employees of Southeastern Ohio Regional Jail, Athens County 911, the Ohio Adult Parole Authority, and First Assistant Prosecutor Meg Saunders (Athens County Prosecutor's Office) for their assistance in this case.