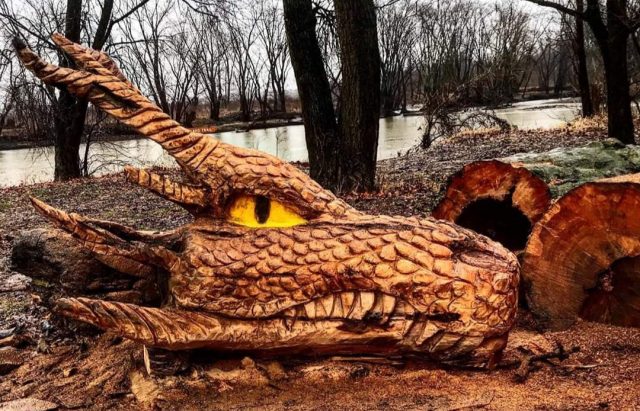 Whisler OH- A local resident has created several amazing art pieces by using a chainsaw. His most recent creation has been considered a masterpiece by many.
Brian Carter, 28 years old resides in Whisler Ohio and a graduate of the Logan Elm class of 2009.  He's an employee of Pickaway County Park District as an Operations Manager, who also spent 8 years as a member of the Army Reserves, and now he's becoming famous for his chainsaw artwork.
Brian started on the dragon last Monday and finished on Friday January 24th 2020 with about 12 hours solid work time using only chainsaws and cordless angle grinder to smooth out details.
He said in a recent social media post "I'd like for everyone to formally meet my most recent chainsaw creation Rot, the Wetland Trail Dragon. His name and form are both due to the immense amount of rot in the log and root base. Still a lot of rot to remove on "Rot" but at least the majority of the details are in place. See my previous post for a complete video of the carving process!!"
We thought the dragon was worth the share with our readers.  Watch the video below.