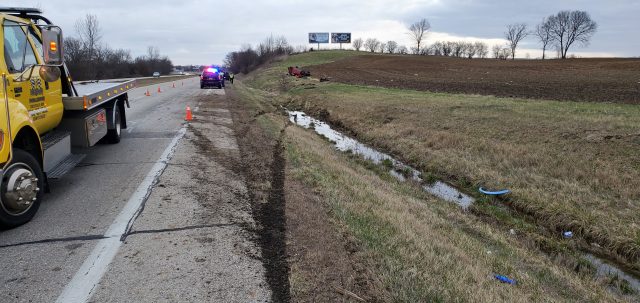 Pickaway County OH- Update: Family has contacted Sciotopost announcing Lori B. Cutlip has passed a few hours ago.
Heres the information from earlier on accident.
According to information obtained by Scioto Post from the Pickaway County Sheriff's Office. Neither of the two accidents that occurred on U.S. 23 north bound, just north of the Ross / Pickaway County line were fatal at this point in time. We are aware that there is a false article being shared on social media concerning one of these crashes being fatal and we want to set the record straight.
At approximately 3:41am the Pickaway County 911 Center received a call of a crash on US 23 northbound just north of the Pickaway / Ross county line.
Deputies responded and found that a 2005 red Nissan Altima driven by Lori B. Cutlip of Chiilicothe, OH was involved in the crash.
According to a witness, Cutlip was northbound on US 23 when she left the right side of the roadway, crossing a ditch and striking an embankment. The car then rolled end over end, landing on its top. Cutlip was ejected from the vehicle.
Pickaway Twp. and Circleville Fire Departments were also on scene.
Cutlip was transported to Ohio Health Berger Hospital and then transferred to Grant Hospital where she is listed in very critical condition.
While this crash was being investigated, another injury crash occurred just south in the traffic backup that resulted in another driver being injured. Cars that were slowed down by the initial crash were rear ended when another vehicle failed to slow. The Ohio State Highway Patrol is investigating this crash
.
<img src="http://www.sciotopost.com/wp-content/uploads/2020/03/20200316_081727-300×142.jpg" alt="" width="300″ height="142″ class="alignnone size-medium wp-image-362530″ />
<img src="http://www.sciotopost.com/wp-content/uploads/2020/03/20200316_081742-300×142.jpg" alt="" width="300″ height="142″ class="alignnone size-medium wp-image-362532″ />
<img src="http://www.sciotopost.com/wp-content/uploads/2020/03/20200316_081756-300×142.jpg" alt="" width="300″ height="142″ class="alignnone size-medium wp-image-362533″ />
<img src="http://www.sciotopost.com/wp-content/uploads/2020/03/20200316_081628-300×142.jpg" alt="" width="300″ height="142″ class="alignnone size-medium wp-image-362540″ />