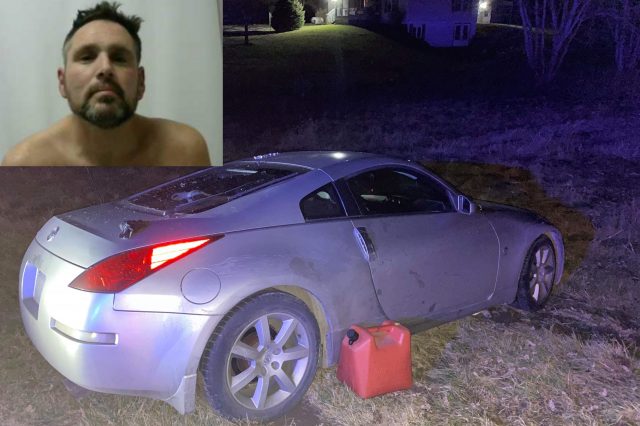 Pickaway County- A police pursuit that started in Madison County on Sunday night, has ended in a crash in Pickaway County.
It was 10:40P.M. when the call came out that the chase was entering the Derby Ohio, Darbyville area. Officers radioed ahead and prepared spike strips on the road in the area of U.S. 62 and London Rd.

The driver, 41 year old Ronald Manus hit the spike strips with both driver side tires of the silver sports car, flattening both. After losing both tires, he then lost control of the vehicle a short time later and slid into a field in the area of Burro Lane and London Road.

The Scioto Post was told by Sergeant Winebrenner of the Madison County Sheriff's office that it began in Madison County after they got a call concerning a suspicious vehicle. Officers engaged the vehicle and the driver fled, leading to the two county pursuit.
The Sergeant also told us that Manus has four outstanding warrants and that is most likely the reason he fled from officers.
Pickaway County and Madison County collaborated on this chase and capture.
The suspect, Ronald Manus is currently being held in the Tri County Regional Jail on five charges. Violation of protection order x3, receiving stolen property and failure to comply with a police officer.
There were no injuries reported.