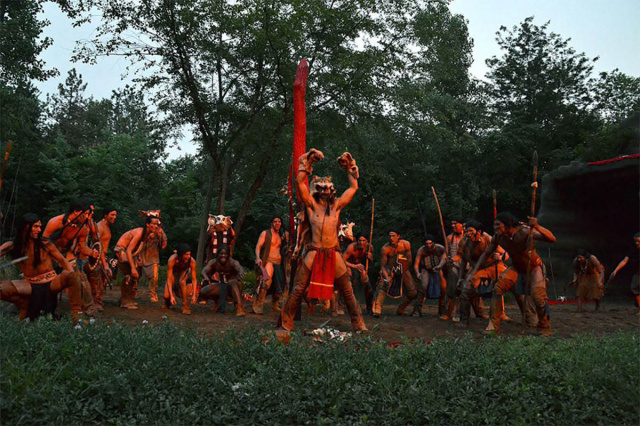 CHILLICOTHE – It's back for another season Tecumseh opening night starts on Thursday, June 13th, 2019 for another incredible season.  Tecumseh is offering a unique value on Wednesday, June 12 for a Preview night those tickets are 10 dollars for all seats for one night only, after that tickets will go back to regular prices.  According to the website, backstage passes will not be available for Wednesday, but the buffet will be.  You can buy tickets here.
Witness the epic life story of the legendary Shawnee leader as he struggles to defend his sacred homelands in the Ohio country during the late 1700's. TECUMSEH! has been labeled as one of the most mesmerizing dramas in the nation.
The huge, outdoor stages of the Sugarloaf Mountain Amphitheatre afford the audience a unique viewing experience. Sit beneath the stars as sheer spectacle surrounds you with a herd of galloping horses, live military cannon in action, and the most dazzling battle sequences offered on the American stage.
Often emulated within the outdoor drama industry, TECUMSEH! continues to set the standard for innovative production techniques. Over 100 people are involved each summer in bringing this exciting drama to life. The sights and sounds of natural elements serve to heighten this one-of-a-kind theatrical experience.
TECUMSEH!'s reputation for artistic excellence in performance, staging and design has garnered international acclaim. Quality production elements such as the play's hauntingly beautiful native American Music Score – (recorded exclusively by The London Symphony Orchestra) – and its narration sequences recorded by Oscar Nominated Native American Actor Graham Greene continue to thrill audience members of all ages.
Add a backstage tour or join us for dinner at the Sugarloaf Mountain Frontier Buffet to make your experience one you'll remember forever!