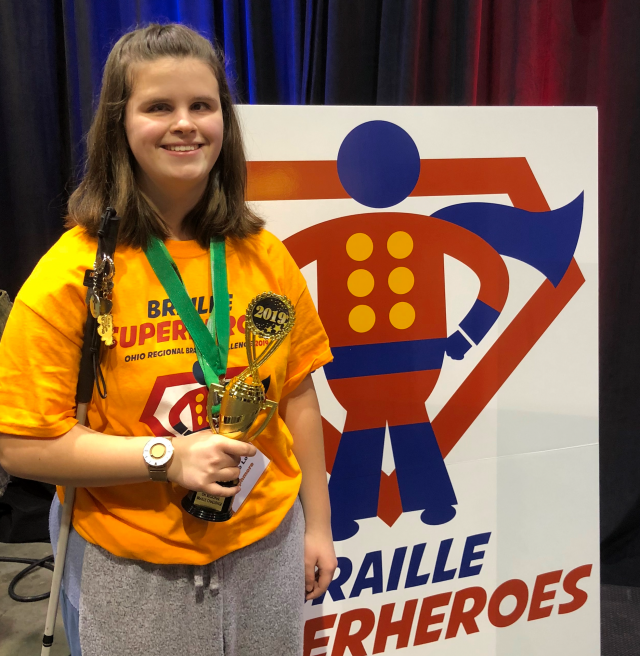 Los Angeles — May 16, 2019 — Local student MaKenzie Love has been selected as a finalist for the 2019 Braille Challenge by the Braille Institute. A sixth grader at Teays Valley West Middle School, Love has been invited to compete at the National Finals on June 21 and 22 at the University of Southern California.
Thousands of children in grades 1 – 12 competed in preliminary events throughout the U.S. and Canada earlier this year. However, only the top 10 scoring students from each of five competitive categories are invited to Los Angeles for the final round, which consists of two days of competition, camaraderie, and fun.
"We are proud of MaKenzie for earning a chance to compete in this challenge," West principal Michael Kauffeld said. "She is a hard working student who strives to do her best at everything she takes part in, and I am thrilled to see her hard work pay off."
Celebrating 100 years of positively transforming lives of the visually impaired, Braille Institute developed the Braille Challenge to motivate students to practice and hone their braille literacy skills, which are essential to academic and employment success. Braille Challenge is the only academic competition of its kind in North America for students who are blind or visually impaired. 
Any blind or visually impaired student who can read and write braille is eligible to participate in the Braille Challenge. Contestants compete at five levels (Apprentice through Varsity) in five different categories of braille literacy, including reading comprehension, spelling, speed and accuracy, proofreading, and charts and graphs. Contests are proctored by volunteer Teachers of the Visually Impaired and scored locally by volunteer transcribers, based on national guidelines.
About Braille Challenge
Braille Challenge, sponsored by Braille Institute, is an annual academic competition designed with two stages to motivate students who are blind or visually impaired to emphasize their study of braille while rewarding their success with fun-filled, challenging local and national events. Any blind or visually impaired school age student can participate in a regional event (held January – March) in communities around the US and Canada. Top participants are invited to the National Braille Challenge Finals Competition (hosted this year on June 21 – 22 by Braille Institute in Los Angeles). Celebrating its 18th year, #BrailleChallenge offered more than 1100 students (this year alone) a chance to compete in five categories: reading comprehension, braille spelling, chart and graph reading, proofreading, and braille speed and accuracy.
About Braille Institute of America
Braille Institute of America is a nonprofit organization that has been positively transforming the lives of those with vision loss for 100 years. It serves thousands of people of all ages each year through an array of educational, social and recreational programs and services designed to help people with vision loss lead enriched and fulfilling lives. Funded by private donations, all services are completely free-of-charge. Braille Institute's Los Angeles headquarters are located at 741 N. Vermont Ave., Los Angeles. For additional information, please visit www.braillechallenge.org or www.brailleinstitute.org. Follow on Facebook at @Brailleinstitute and on twitter @BrailleInst.