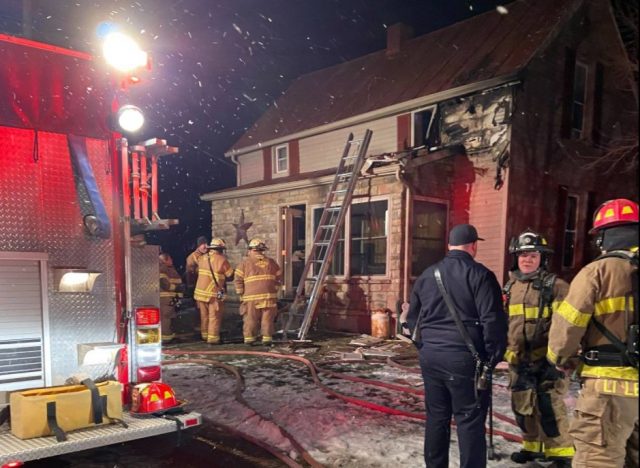 STOUTSVILLE – Around 2:54 am on February 7, 2021, a 911 call came into Pickaway County Sheriff's office on a report of a structure fire at 8820 Baker road in Stoustville.
Immediately Clear Creek Twp. Fire asked for mutual aid from Fairfield, Pickaway Fire, and requested a Tanker out of Pickaway Township.
When the department arrived first on the scene they reported smoke coming from the front right side of the structure. Firefighters equipped with Scott air packs entered the structure and attention was concentrated on the front wall of the home. The departments on scene set up ladders outside the home and used a chainsaw to gain entry into the walls of the home where they suspected the fire was raging. In our live video below you can see the moment when the fire burst through those walls and the fire department work quickly to contain the fire to the front section of the home.
It took the fire departments about 45 minutes to contain the fire, the fire was contained to mostly the front right corner of the home.
Currently, fire investigators are working to determine the cause of the fire.
Mutual Aid Departments: Amanda Twp Fire, Saltcreek-Tarlton Fire, Hocking Township Fire Department, Circleville Fire, Bloom Township Fire Department, and Box 65 were other departments that were called to the scene.
Temperatures were around 20 degrees, with wind