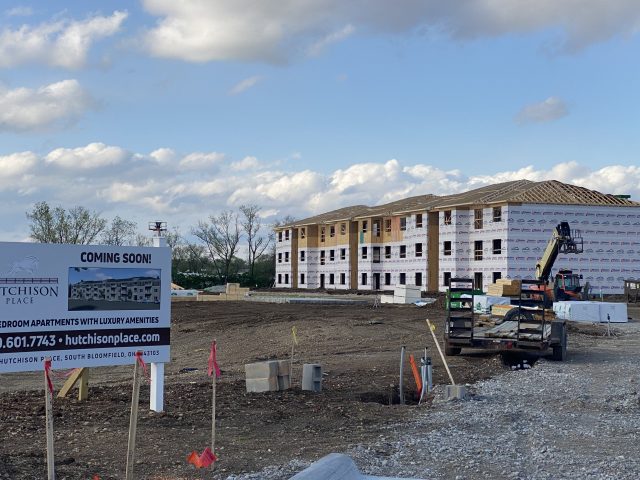 SOUTH BLOOMFIELD – South Bloomfield is adding to the community in some much needed housing in the form of luxury apartments in the towns Southern Development area.



Hutchison Place is a luxury apartment complex that when fully constructed will have a total of 300 units consisting of 1,2, and 3 bedroom apartments. The apartment complex boasts amenities including 24-hour fitness center, heated pool, movie theater, half basketball court.
"Over the years when we contact businesses that we would like to attract such as a Grocery Stores and Sit down Restaurants they always give me the feedback that the housing density is not great enough yet to make it feasible to build. Now with this project along with the other housing developments underway we are hoping to attract the business that always seem to either build in Circleville or Grove City, said Mayor of South Bloomfield Matt Pettibone, "As Northern Pickaway County grows business owners and Developers will start to realize that most of us that live north of Circleville don't work, shop and spend time in Circleville and they are limiting the potential foot traffic that they will gain by building South of the three main Villages of South Bloomfield, Ashville and Commercial Point. Folks that live in Circleville always will need to drive north to work and by building North of Circleville they will cast a much broader net of potential customers." 

"Over the past 7 years we have worked very hard on developing a wonderful Park complex, expanding services, improving infrastructure and doing all the right things to attract these types of growth opportunities and its just a matter of time before it explodes." 
Located on 5000 Hutchison Street it is within walking distance to South Bloomfield Elementary school, just a few minutes to US-23 and less than 30 minutes to Columbus. With housing in Teays Valley School District at a premium with realtors right now, this is a much needed market.