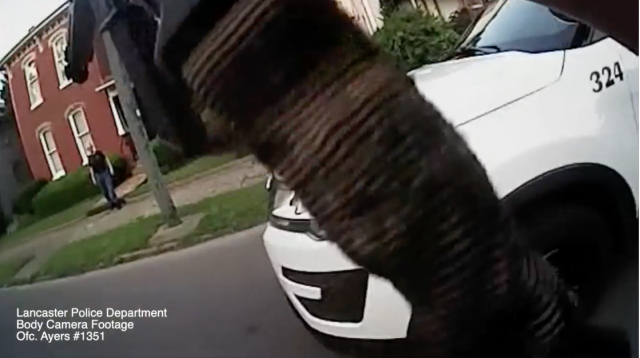 LANCASTER – The Lancaster Police Department responded to a call in the 800 block of N. Columbus St. on Saturday evening around 9 pm. Officers were responding to a very tense and dangerous incident involving a distraught male subject with a pistol. The Lancaster Police Department is extremely thankful that the public in the area and the male subject in the video did not suffer any injuries. The male subject was taken into custody and appears totally unharmed after his arrest. He was transported to the hospital for treatment. The Chief of Police has decided to release a portion of our body cam video in the name of transparency. Our organization has policies in place to review any critical incident . We are currently working to guarantee that we have all the information surrounding this particular incident.
Witness to the incident says that the man in question is a U.S. Veteran with dementia.

Some facts about the video you will see:
This subject is armed with a .38 caliber Smith and Wesson revolver as officers approach him.
He fires one round as the officers arrive.
The weapon was dropped into the grass/mulch within a few feet of where he kneels.
Officers do not know what his intentions are as they approach.
Officers do not know if someone else has been shot or injured before they arrive.
The subject does not immediately comply with their commands to get face down on the ground.
The officer who forces him to the ground is pushing him away from the weapon and kneels down to secure it.
He clearly catches himself with his hands when an officer forces him to the ground.
This is the local video that was captured that has some Lancaster residents in a uproar warning language.  The video shows a officer kick the elderly man to the ground, the statement you read above is from the Lancaster Police Department on the issue.