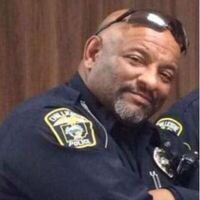 CHILLCIOTHE – Retired Officer Reggie Netter died last week after complications of COVID-19, his family is requesting that to show support they are asking for people to come out to celebrate Officer Netter by lining the streets for his funeral procession. Retired Officer Netter's procession will start at Haller Funeral Home and will proceed to Greenlawn Cemetery on Monday, March 1st at Noon. The procession will travel east on Water St., south on Paint St., and east on Main St. We ask for everyone who would like to celebrate Officer Netter line up on Water St. (between Yoctangee and Paint St) and line up on Paint St. (between Water St. and Main St.).
Reginald F.P. Netter was born August 24, 1957, in Chillicothe to Reginald Wright and Vera Netter. 
Surviving are: his wife, Cheryl Netter; sons Kevin and Brian (Emily) Netter; grandchildren: Brylee, Quinlee, Madison and Abigail; his brother Jeff Netter; aunts and uncles: Barbara (Larry) Liggins, Worletta Mask, Tula Moody, Sissy Netter, Floyd (Karen) Netter, Bill (Joyce) Netter, Tarza Greene and Valla Allen; and sisters-in-law Laurie (Bill) DiMattio, Bonnie Jenkins and Gayle Mascarello. 
Reggie was a graduate of Adena High School, Class of 1975. He served his country from 1975-1985 in the US Army and held the rank of Staff Sergeant, also later serving in the Army National Guard from 2004-2012 and serving in Operation Enduring Freedom in Afghanistan. Additionally, he served his community as a Police Officer for over 20 years.
Reggie was loved by so many and he knew no stranger. He could make anyone laugh and smile and always wanted to help anyone who needed it. His personality was surely a one-of-a-kind and would light up a room in an instant. His hugs, his dance moves, his jokes and his love will never be replaced. He loved spending time with his family and being a part of sports. Of course, we ALL know how he loved his Red Sox and Patriots!! He enjoyed telling everyone stories of how he taught Papi how to swing a bat and how he taught Brady how to throw a football.
It would take years and years to hear all the stories that people could share about him, stories that will be told to help his memory to live on for a lifetime. These stories will bring us all laughter, tears, smiles and peace.
He will be remembered as a kind soul who always wanted to serve others whether as an officer, a soldier, a coach, a mentor, a family member and most importantly…a dad! He would tell us not to hang our heads, not to shed a tear. He would tell us to keep living life and don't worry…be HAPPY!
So one more time for all who loved Reggie P-A-T-S…PATS, PATS….
Due to COVID restrictions and precautions, private services for the family will be held at Haller Funeral Home & Crematory.  Military graveside services conducted by the Ross Co. Veterans Honor Guard will be held at apx. 12:15pm Monday March 1, in Greenlawn Cemetery.  In lieu of flowers, memorial contributions may be made to any reputable veteran or law enforecement organization. 
Police ask to keep social distancing guidelines by staying 6 feet apart and wearing masks. Below is the route that Chillicothe Police department released.