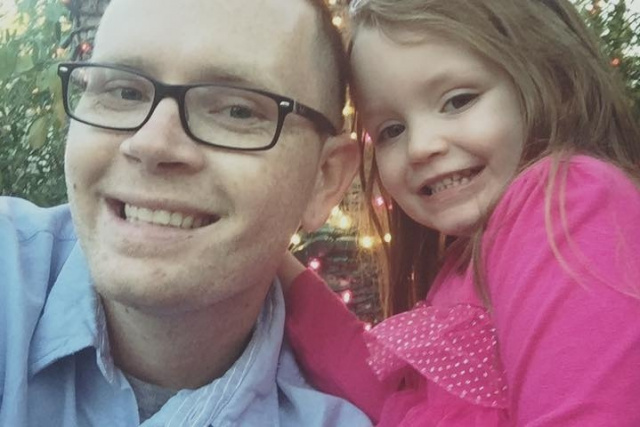 CIRCLEVILLE -Three friends formed a search party on Sunday, February 3rd 2019 to look for a childhood friend that was reported missing on January 25th.  Two of these friends from out of town made time to come to Circleville for one reason, to search for Jimmy Neff.  Dylan Hemn and Jon Radcliff found their friend only walking distance from where he went missing, Torain Lowe arrived on the scene from a panicked call from them.   We found him they said call the police.  
What unfolded after that was a community in sorrow for a man who it was apparent many people cared for regardless of any wrongdoing he had done during his lifetime.  The three friends told me on scene how they wished it wasn't this way and Neff meant so much to them they had to find him.
About a week has passed since that day and friends are posting memories of Neff and what this man meant to their lives growing up in Circleville.  I asked them to share those stories here so maybe we can instill in other the want to share some stories of Jimmy on this post, and we all can get to know Neff a little bit better.
This past week hasn't been easy. From news on my grandmother to finding a good friend in a way, no one would expect. It clouds your mind. It causes you to ask yourself if anything you could've done, or said to turn things around. How can things go from skateboarding, BMX bikes, and circle D to what we all have now? From a small town, where everyone grew up together, doing everything together. To where we're all distant now. Not knowing what's going on with each other, or not wanting to know. Growing up, my friend always was energetic and smiling. Happy about everything. Sure there were times when he was angry about something. However, all of us, his friends and family were right there with him. As he was for all of us. I remember hanging at his grandmas cracking jokes and getting yelled at for being too loud, or running in and out the house. It didn't really bother her, she liked having her grandson and his friends around, but she loved to be heard too. Circle D days, Friday skating upstairs, dance skating, hanging, planning what we were going to do the next day, which usually still ended with us skating upstairs Circle D. Playing ball at Ted Lewis to being at the skatepark every day we could. Even if it was a little cold out, still was there trying to smith grind on the table top, or drop in on the half pipe. Sleepovers, cruising up and down court street, cruise fest, fairgrounds, and pumpkin shows.
The little fights we got into, sometimes it was together against someone else or with each other. Fist was never drawn between us two — just yelling and names, but the next day back to doing the same stuff together. We were friends after all. Therefore each other no matter what. You don't ever realize all of this until something happens, it shouldn't be that way. My friend was an amazing guy, and I know from him talking to me every time we saw each other that his daughter was his world. All he wanted was to do right for and by her. I know he fell through some bad times, but I also know he was trying his best to come out of them. With all of us growing up and creating families of our own, the time hasn't allowed us to keep in touch as well as we did as we were younger. Maybe if all of us had, things would be different today, idk. However, what I do know is my friend was a great man, and it was an honor to grow up next to him. You'll forever be missed but never forgotten. Love you buddy. RIH Jimmy! Torion Lowe


When I think of him, I remember him being so witty. He always had a smart comeback especially with Brenda Boltenhouse and Vickie Taylor at Circle D. I can hear them plain as day calling him a little shit. Growing up he was close with my brother Matt playing baseball in the Little League. I won't remember him as we found him, it'll always be the little kid that loved his Grandma far beyond what any words could explain. One thing I haven't mentioned to anyone was the dove flying back and forth between two trees as they were getting him out. I pointed it out to Dylan Hemm and Jimmy's aunt, but to me that was him letting us know he's in a better place where the problems we all face these days are non-existent. Lots of people say fly high and Sunday that dove was showing us he's doing just that. I think Dylan and yourself Torian might agree. Love you guys I appreciate you both just for being who you are.  Jon Radcliff
Jimmy Neff… chunky little-freckled kid who always was ornery as shit lol. Had many words over the years and had many more laughs lol. I remember us all in Everts middle school…. dancing and cracking jokes…. skating at Circle D… Football games… Ted Lewis….we were your true average American small town boys… as we grew older and had families sure the distance and time grew longer between talks and visits… but the emotions and feelings and attitudes we had towards each other never changed… well they grew more genuine. They became pure. We learned to cherish those moments that we got we they arose. I will always remember Jimmy calling me "DILLON", not Dylan (Die-lyn).. and Nathan was Buzzard lol. Always happy to see me. A man who loved his friends and family and adored his daughter. A beautiful spirit and a bright smile. I don't know what really led me to find him or how… but I knew…. something told me where to look and I am very grateful I did. Grateful for Jon Radcliff and Torion Lowe for being by my side and supporting my search and aiding me in it. Without you, two idk if I would have found him. Thanks for being true-hearted human being and real friends guys. Jimmy, you had a heart of gold, and I wish it hadn't went this way. I love ya man. God be with you and may your soul have its peace you so desperately searched for and wanted. Till next time Bubba. Dylan Hemm
Jimmy Neff's amazing spirit brightened up everyone's day when you would see him. He felt deeply for his family and friends. He also made sure you knew he cared, which felt awesome since there are not many people like that. He will always be one of the best of our middle school last of the sandlots crew. Till we meet again jimmy- Jerry
Jimmy Neff was my cousin but better then that my brother. We grew up together,always went skating at circle D He was like my best friend I loved him so much. The older We got closer we got but as everyone has said Jimmy was always Happy to see me,t hen he fell in too hard times and no longer could see his Beautiful daughter he would talk about how he loved her soooo much, she was the light in his eyes. Jimmy Bub I love you Sooo much and I know that You are now in heaven with your Sister and Your Uncle Tom R.I.H Jimmy. Jesse Holbrook
Sadly, the missing person we shared, was a friend from middle school, a father of a young girl, a son to a heartbroken mom, and a cherished friend to a grieving community, who was taken from this world much to early. The family could use all the help and support they can get, and one of the realities is that services cost money. Every dollar would help, and anything leftover will going to his daughters college fund.
I am glad to have been able to bring closure to his family, but now it would also give me a peace of mind, to know that we could help ease the burden they face.
A go Fund me has been started and is accessible by clicking here.
If you have a story or photos about Jimmy please leave it on the facebook page or on the website and I will make sure the family sees it.