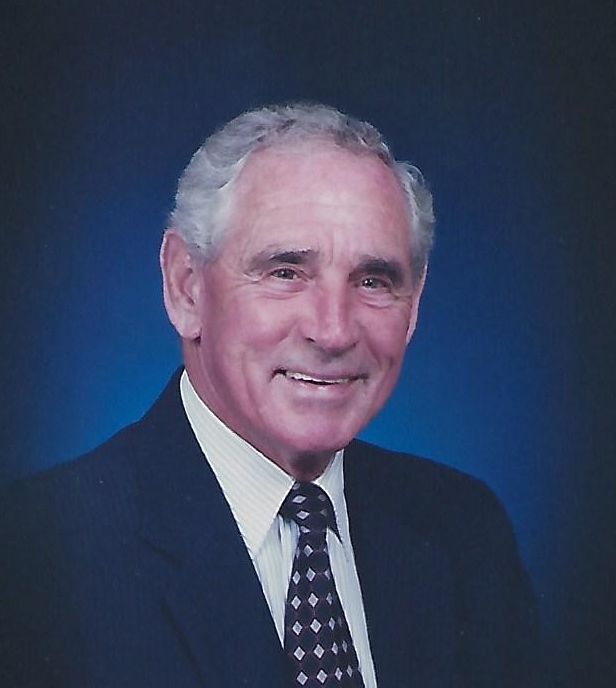 For 93 years, Ralph W. Ankrom was born, grew up, raised his family, and worked in the south end of Circleville until his passing with family by his side on June 2nd, 2019. John B. and Emma (McCollister) Ankrom had their fourth son on November 20, 1925, joining brothers Dale, Harold, and Allen. He chased down Rosemary Hildenbrand, his true love, at the skating rink and married her on April 27, 1949. He preferred to only eat her wonderful cooking for the next 67 years.
He was a proud 1943 graduate of Circleville High School, watched all four children and eleven grandchildren play countless games, participate in activities, graduate from CHS, and to this day gets excited when his Tigers win.  He served in World War II from March 1944 to May 1946 on Navy Ship Amphibious LSM 395 in the Pacific Theater.  They christened the ship in Charleston, SC, and traveled through the Panama Canal to Japan.  He received various commendations for his service, including the Philippine Liberation Ribbon, Occupation Japan Ribbon, and the Victory Ribbon. He taught his children, Joyce Lutz, Patty (Dave) Truex, John (Teresa) Ankrom and Betsy (Rich) Richards the value of family, the importance of community, and the meaning of integrity.
His grandchildren, Jesse Lutz, Jada Truex, Andy (Stevie) Lutz, Sean (Jolie) Ankrom, Mitch (Maria) Truex, Katy (Chris) Modica, Mason (Katherine) Richards, Jill (Ben) List, Ben (Keira) Ankrom, Maria (Frank Roberts) Richards, and Julie Richards quickly learned how to be work-bristled while painting wood fences, raking leaves, picking up sticks, and to always compete (win).
He taught his 8 great grandchildren (with #9 due this month), Bryton, Joseph, Rosie, Rhys, Elliotte, Teagan, Jerrah, and Gwen how to be loved and have fun through games of bucket-ball, reading books in the recliner, swinging on the tree swings, and mower rides.
A day was a good day when it involved good old-fashioned work in Ralph's world. He owned and operated Ankrom Lumber Company and R.W. Ankrom Company. He later served as the quality controller for Ankrom Architects and worked with his hands his whole life as a master carpenter. Check your trusses in the attic or the pictures on your walls and there's a good chance you've been "framed" by Ralph and didn't know it. His shop was always open to friends and others who wanted a piece of advice on a project or just to chat. Ralph was a huge believer in giving back to his community and helping those in need. He was a charter member of Sertoma and Circleville High School Alumni Association and a founding member of the Circleville Pickaway Corporation. He was a life member of the Circleville BPO Elks #77 (and avid bowler), AMVETS, American Legion Post 134, VFW, and inducted into the Circleville High School Athletic Hall of Fame. He loved to see kids have the opportunity to play sports and spent many years working with Circleville Youth Baseball and the American Cancer Society 3 on 3 Basketball Tournament.  He served as a Circleville Township Trustee and Pickaway County Commissioner.
Rosemary's Salem United Methodist Church family became his own as he loved his time as Chairman of the Board, Trustee, and special wood project extraordinaire.
Ralph lived on the same corner his entire life and treasured his long time neighbors, including Wendell and Elsie See. He loved having Wednesday lunches and stopping at Hardee's for coffee and tall tales with his "boys" in the morning. He always enjoyed visiting with his family from Lancaster and sister in laws, Marj (Eddie) Andrews, Bonnie (Bill) Hildenbrand, Pat (Dick) Hildenbrand, and the late June (Darl) McAfee and Jean (Allen) Ankrom.
We welcome all to come share stories of Ralph on Thursday, June 6th from 2-4 and 6-8 at Wellman's Funeral Home, Circleville, OH, with an Elks Memorial Service at 7:45pm.  His funeral service will be at Salem United Methodist Church on Friday, June 7th at 11:00 am with burial beside his bride to follow at Mount Pleasant Cemetery. Memorial contributions can be made in Ralph's name to Salem United Methodist Church,℅ Todd Bohrer, 14184 State Route 56, Kingston, OH 45644 or Circleville High School Alumni Association, 388 Clark Drive, Circleville, OH  43113. Ralph always said that, "A true craftsman will always have a full day's work." Your work here is done, but the lessons you've taught us and the legacy you've made will live on.  Well done, Ralph, well done. Online condolences can be made to www.wellmanfuneralhomes.com