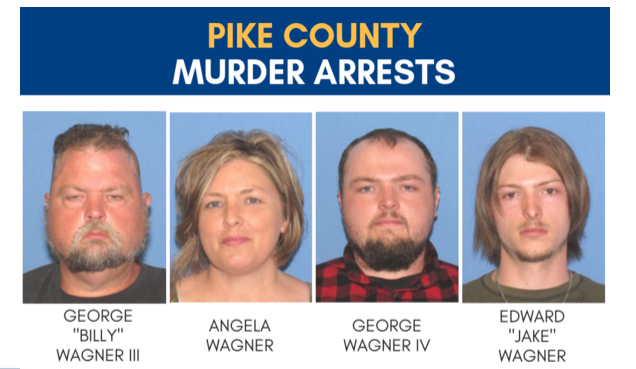 OHIO – Oxygen looks at The Piketon Family Murders in a two hour special that will air on March 31 at 7 pm. The show explores the cold-blooded almost cartel style slayings of the Rhoden family. Note: some advertisement has claimed this will air on March 24 but according to Oxygen's website it will be on March 31. 

Preview of the show here: https://www.oxygen.com/the-piketon-family-murders/season-1/episode-1/videos/the-piketon-family-murders-airs-sunday-march
Ohio Attorney General Mike DeWine, Pike County Sheriff Charles S. Reader, and Pike County Prosecutor Robert Junk announced the arrests of four people on November 11, 2018 for the murders of eight people in Pike County on April 22, 2016.
The four people who were charged where
George "Billy" Wagner III, 47
Angela Wagner, 48
George Wagner IV, 27
Edward "Jake" Wagner, 26
Killed were: Christopher Rhoden Sr., 40, his ex-wife Dana Manley Rhoden, 37, and their three children, Hanna May Rhoden, 19, Christopher Rhoden Jr., 16, and Clarence "Frankie" Rhoden, 20. Frankie Rhoden's fiancée, Hannah "Hazel" Gilley, 20, was also killed, along with the elder Christopher Rhoden's brother Kenneth Rhoden, 44, and cousin Gary Rhoden, 38.
Watch as Oxygen explores how this murder affected the small town of Piketon Ohio and changed its history forever, in the biggest criminal investigation in Ohio History.