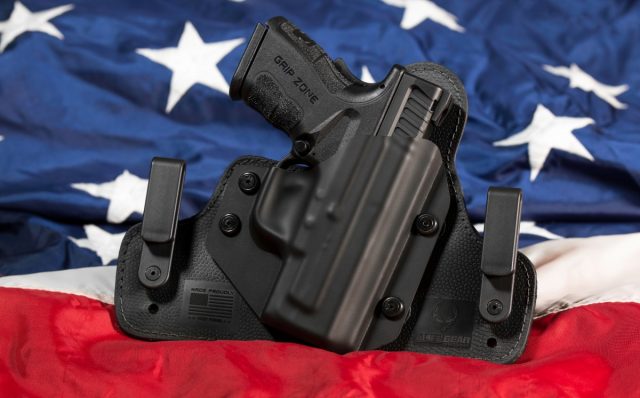 PICKAWAY – Pickaway County Commissioners joined sixteen other counties in Ohio this week by passing a 2nd Amendment gun resolution. Commissioners Stewart, Wippel, and Henson all said that they were gun owners and passed the resolution unanimously.
Ohio Stands United Tyson Rathburn says that Ohio is passing 2a resolutions quickly throughout the state. With 59 Counties that have officially organized out of 88.
"That tells me that the people in Ohio are going to stand up for their second amendment rights and not let them be infringed upon, and they are going to unite and tell the government this is a right in the constitution and they are going to hold them to it."
Rathburn says it hasn't been entirely without opposition in some areas, one of those areas being Ross County, where the Chillicothe mayor has endorsed Mike Bloomberg for president. Bloomberg who supports the Moms for action group who demand more restrictions on guns.
The Sheriff recently posted a statement on the resolution.
Sheriff Radcliff committed to Protecting Citizens' Rights Under the United States Constitution
As your elected sheriff, I have taken an oath of office to support the Constitutions of the United States and the State of Ohio. It is my duty to uphold both documents and to enforce the laws as passed and enacted by the legislative branches of each segment of government.
I am a Southwest District Director of the Buckeye State Sheriffs' Association and I, along with other Ohio sheriffs, seek a comprehensive and thoughtful approach to extreme violence. This includes expanding mental health treatment for those who experience mental illness, vigorous prosecution of those who violate gun laws, and enhanced training for law enforcement, schools, and those who operate other public facilities to address active shooters and other safety threats.
I believe in the right of the people of our country to keep and bear arms for their defense and security, and that this right should not be infringed upon. I also believe that criminals should be prosecuted to the fullest extent of the law when they use a firearm in the commitment of crimes. I support gun safety incentives to promote both safe and secure storage and use of firearms.
Since taking office, I have increased the number of hours that we process concealed carry permit applications from 16 hours a week to 24. I issue permits as quickly as my staff processes them and will continue to do so.
As an elected official, it is my responsibility to protect all citizens, those who support gun rights and those who don't. I don't support any laws that deprive any citizen of the rights provided under the Constitution and Bill of Rights. I do and will continue to support and defend the 2nd Amendment of the Constitution of the United States for as long as I am your sheriff.