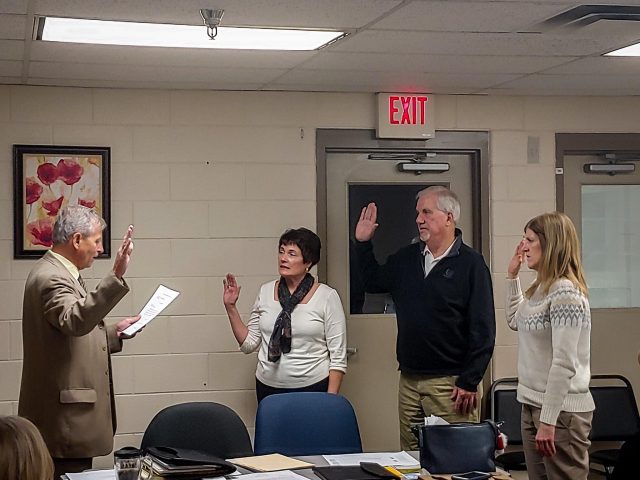 PICKAWAY – Two new Park Board The Pickaway County Park District is announcing two new members Gregory D. Bigam and Susan R. Metzger. They take the place of Jennifer Tomlinson and Marshall Fields, who have nearly 10 years of service to Pickaway County.
Bigam and Metzger were sworn in on This week and started work immediately.
Susan Metzger has always enjoyed the people and community, since moving to Pickaway county with her husband and sons in 1994, working in areas of education, particularly agriculture. She is the Project Coordinator for the Pickaway County Community Foundation since February, 2019. The administrative aspect with the Foundation allows her to s provide general information about the Foundation and how philanthropy and people can make a difference in our communities and county. Susan works with the Executive Director, Board of Directors, and the Pickaway Competitive Network Advisory Committees, providing staff support. Susan is also one of the Youth Advisory Council Advisors assisting with teaching students from the four county schools about philanthropy. 
A two-time graduate from The Ohio State University, College of Food, Agriculture & Environmental Sciences, Susan is also an Adjunct Plant and Biology Professor at Ohio University – Lancaster. 
Her passions beside her career include her family, gardening, being an active member of St. Joseph's Catholic church and definitely cheering for the Ohio State University Buckeye football team and Cleveland Indians. 
 Gregory Bigam is a lifelong resident of Pickaway County and a Graduate of Westfall High School. Gregory previously worked as a clerk/administrator for the Pickaway County Board of Commissioners and has assisted with many federal grants, including using CDBG funds to begin Barthelmas Park. More recently Gregory was the Executive Director for the Pickaway Metropolitan Housing Authority. Gregory is now retired, but still enjoys sports broadcasting, which he has done part time for 45 years. He also enjoys his five grandchildren and their activities. Gregory believes It is an exciting time to join the Pickaway County Park Board. He looks forward to carrying on the great work that has been accomplished as well as the exciting future plans for the residents of Pickaway County."