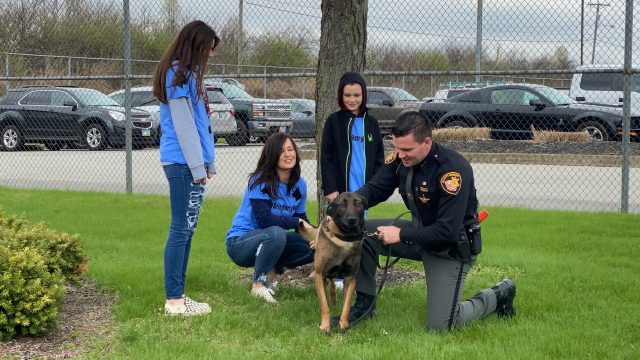 PICKAWAY – Pickaway County Sheriff Rob Radcliff said during an interview yesterday that Deputy Rob Morningstar would, "immediately become a K9 handler for Pickaway County Sheriff as soon as the officer took control of K9 Harry.



According to K9 Deputy Morningstar the K9 license he obtained while working for Circleville Police Department transfers, so he can run under that license until it needs to be renewed then he will renew it under Pickaway Sheriff.
Sheriff Radcliff said that K9 Harry would take the position as the 3rd K9 unit for the county.



"Even though this fits perfectly because we needed another unit, it was never the plan to take Morningstar and K9 Harry from the city. Morningstar applied for a job over here and circumstances just worked out."
The Sheriff said that in the deal no one was a loser, we were able to add a new dog that we needed to the office, and the city now can get a new "green dog" with a new handler for the city."
Radcliff said that the 12,000 dollar deal with the city for K9 Harry was supported by the Pickaway County Commissioners from day one.
Pickaway Sheriffs office now has four dogs:
Deputy Thomas D.A.R.E. officer and his K9 partner, Michael Blue is a certified bomb detection dog for the Pickaway County Sheriff's Office who serves double duty with the D.A.R.E. program.
Sgt Kyle Eveland and his K9 partner Edguy drug sniffing patrol response dog
Joris and Cpl. Stephen Harger respond to calls and handle reports as any other patrol deputy.
Rob Morningstar and K9 officer Harry defined by Morningstar as the "swiss army knife of K9's" and his "fur missile" Harry also is a drug sniffing patrol response dog.