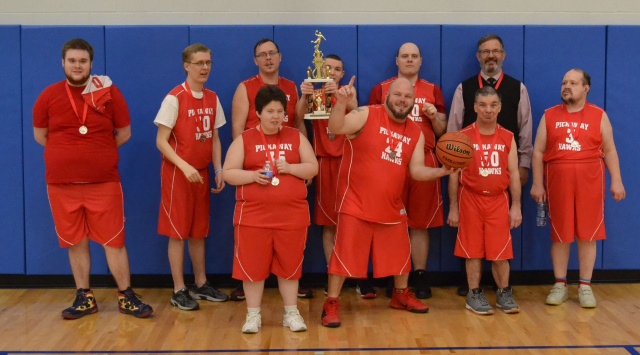 CIRCLEVILLE – The Pickaway Hawks lost yesterday in the State final of the Special Olympics Basketball tournament. The Hawks lost to Summit Warriors in Hillard yesterday but lead at halftime 21-12.
"The best part of this story is Coach Larry Stout and how he took  kids that had barely any practice to a State Championship," said Jeff Moorehead.  Every game was a away game according to Jeff Moorehead, "Every players skill level increase as the year went on, the team in whole increased with each game." 
A lot of these kids had never played together according to Moorehead.  So with skill building they also had to come together as a team. 

The Hawks went to the state championship with a 6 game win streak.  The Championship game was yesterday March 23,2018 in Hillard.  Pickaway County Sheriffs office escorted the Hawks from The Pickaway County Board of DD to the county line on 23 to show support in the Hawks accomplishment.