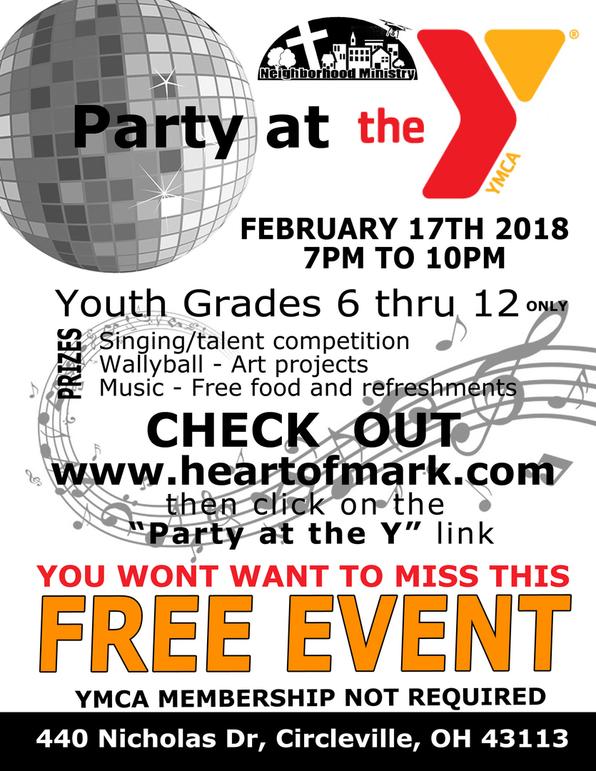 CIRCLEVILLE -By: Matthew Nicklas
Circleville has seen the loss of several important entertainment businesses over the past decade, from the Pinkney Street Movie Theater, Circle D Skating Rink and Bowling Alley, as well as Pickaway Lanes Bowling Alley. Many in the community recognize the need for something positive to come along for our young people to enjoy, and I had the pleasure of sitting down with Mark Sandy to discuss what he is coordinating for the adolescents of Pickaway County.
The Neighborhood Ministry of Trinity Lutheran Church and the Pickaway County YMCA will be kicking off a free fun filled event this Saturday for 6th-12th graders in Pickaway County. Dubbing it the "Party At The Y" on February 17th, from 7pm – 10pm, there will be a host of things to keep these teens entertained. There will be Wallyball games, a human version of Hungry Hungry Hippos (played in groups with laundry baskets, loose balls, and lots of laughter), a Canvas Painting Project for those looking to cultivate their creativity, as well as a talent show including a version of Karaoke that involves a Singtrix, which is a voice manipulator.
- Advertisement -
Thanks to the generosity of many local businesses, there will be free food, drinks and prizes. Mark encourages anyone with a talent to bring their instruments, voice, or whatever prop they may need so they can share it with others! Music will be provided by DJ Express from TuneStone Productions.
Many parents and caregivers can rest assured that Mark is engaged in the safety and security of those attending stating, "Their safety is our highest priority." Mark affirmed that "There will be 20 adult volunteers from the community. Every hour there will be a police officer walking through the YMCA to make sure everybody is safe."
There is no cost and students do not need a YMCA membership to attend. Students will need to provide parent/guardian contact info and any pertinent medical information as well as having transportation home after the event. If you are a 6th – 12th grader and would like to attend, simply show up at the YMCA located at 440 Nicholas Drive in Circleville after 7pm on February 17th. For more information about this event or to volunteer/support in future events, visit www.heartofmark.com/party-at-the-y.html.