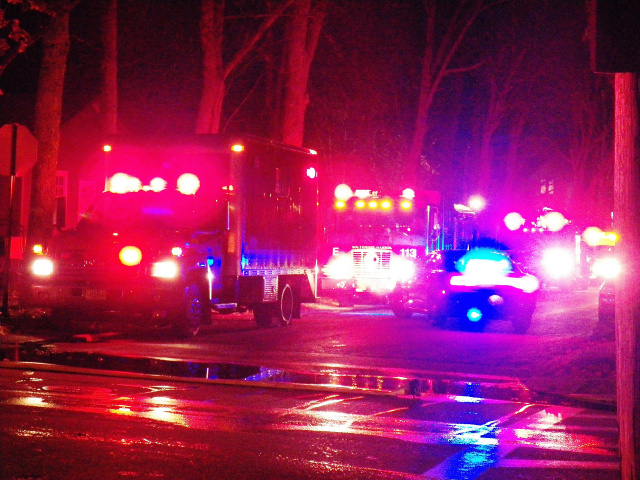 PICKAWAY/Fayette – A man took two law enforcement agencies on two high-speed chases overnight that went through Fayette county into Pickaway and then from Pickaway county back into Fayette county at speeds that exceeded more than 90 mph ended in a crash and arrest.
According to Washington Court House Police, the first chase started within the city limits of the city around 1:30 am this morning (February 4, 2021) on US-22 when an officer attempted to pull the 2004 Chevy Impala over, the driver fled at high speeds Eastbound on US-22. The Chevy eventually eluded police by turning down several country roads at high speeds, and the department decided to end the chase after recording the make, model, and tag number of the vehicle for later prosecution.
A BOLO (Be on the Lookout) was advised by Pickaway County sheriff's office after WCH police officers cut pursuit knowing the driver was most likely heading into Pickaway county. After hearing the BOLO K-9 Officer Morningstar happened to be on patrol in the Williamsport area when he came across the Impala now heading westbound on US-22 towards Fairfield county. After verifying the subject's car Morningstar activated his lights and siren in an attempt to stop the vehicle. Immediately the once-fled vehicle took off from law enforcement again.
With the Sheriff's office hot in his tail on US-22 through Williamsport at recorded speeds over 80 mph, the driver made a desperate move when passing an unsuspecting vehicle on the roadway and swerved into that vehicle forcing it off the roadway in an attempt for law enforcement to stop the chase.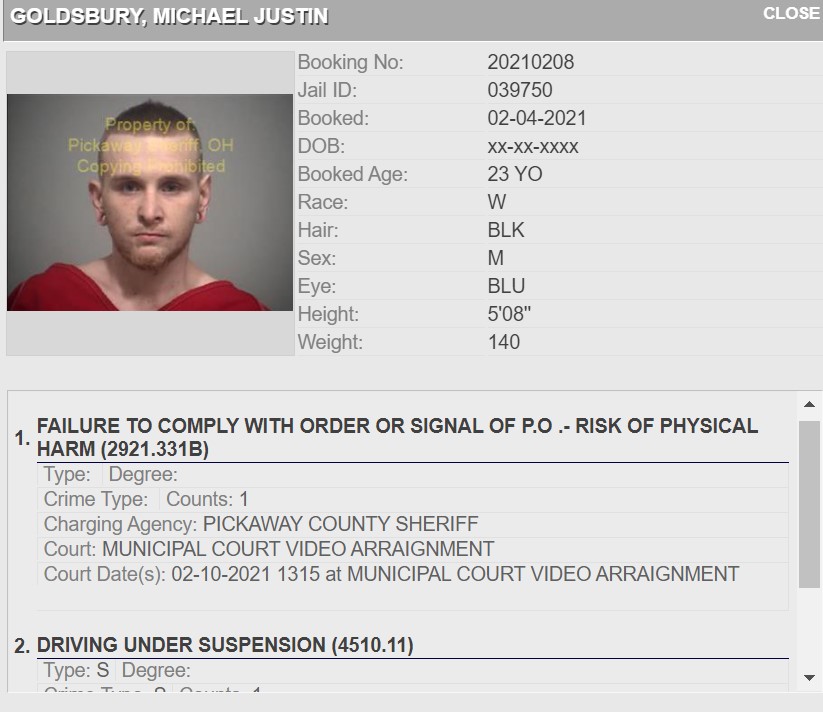 Officers continued the chase into Fayette county. With aid from the Fayette county sheriffs office and WCH officers used spike strips to flatten the tires of the vehicle. The suspect then drove off the roadway into a snow-covered field where he exited the disabled vehicle and fled on foot. After a short chase, he was put into custody and taken to Pickaway County Sheriffs' office.
Michael Justin Goldsbury, 23 of Blacklick Ohio was charged with Failure to comply with order or signal of a Police officer, risk of physical harm, a felony in the third degree, one count of driving under suspension. Other charges are probable from other county agencies and possibly from the Pickaway County Sheriff's office. The incidents are still under investigation.
One other person, a female, and the owner of the car was also in the vehicle but was not charged or hurt in the incident.
The vehicle that was sideswiped by the suspect was also uninjured but vehicle was damaged, left the scene and reported to sheriffs department the next day.
In total four departments were involved in the incident Washington county house Police, Pickaway Sheriff department, Fayette Sheriff Department, and Ohio State Highway Patrol.